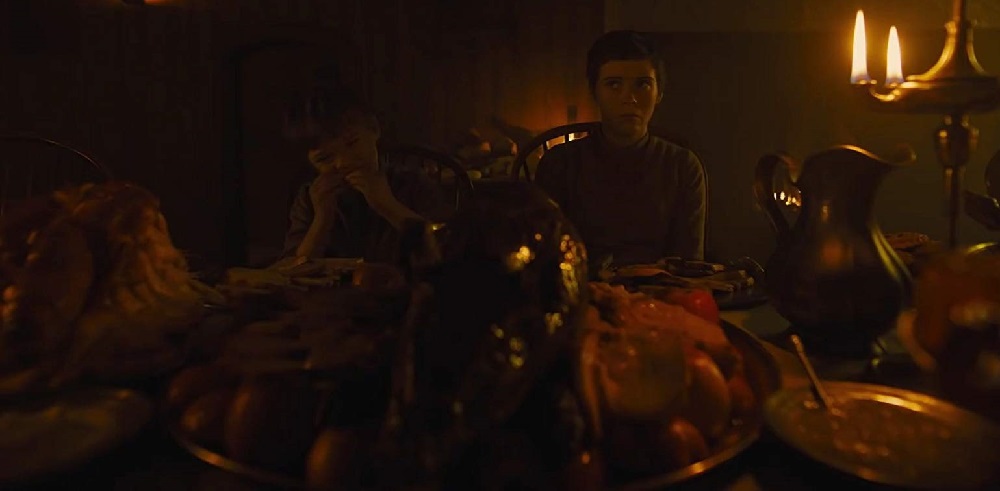 Visually Seductive Gretel & Hansel a Banquet of Horrific Delights
Gretel & Hansel is not the fairy tale you know.
After refusing the lecherous advances of a Lord she was seeking employment from, and with their mother unable to care for them as she physically and mentally deteriorates after the death of their woodsman father, Gretel (Sophia Lillis) discovers it necessary for she and her younger brother Hansel (Sammy Leakey) to head off on their own. As they make their way through the forest they stumble upon a large secluded house, the kindly old woman who lives there, Holda (Alice Krige), willing to give them plenty of food and a comfy bed for the night.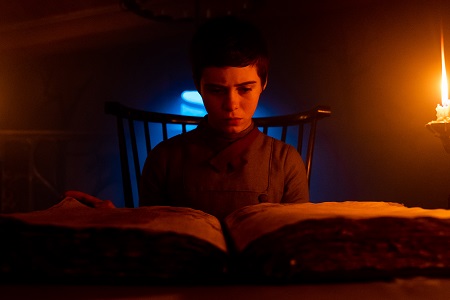 If you think you know what happens next you would be right and wrong in almost equal measure. While a number of the narrative beats follow the Hansel and Gretel fairy tale we all know and love, director Osgood Perkins (The Blackcoat's Daughter) and Rob Hayes have still shaken things up considerably. This is a devastating sojourn into darkness and despair that is unrelenting in its emotionally grim finality. Yet there is a heartfelt eloquence to this relationship between sister and brother that transcends the insidious desolation lurking at the heart of the story. It's abhorrently picturesque, this richly nuanced and decidedly esoteric reworking of the material an unforgettable saga of selfless love, steadfast determination and selfish yearning I can't wait to watch again.
I really liked Perkins' The Blackcoat's Daughter. I wasn't quite as enamored with his 2016 follow-up I Am the Pretty Thing That Lives in the House but the film was still a visual treat with its fair share of disquieting moments. But what he does with Gretel & Hansel is extraordinary. He transforms Hayes' script into a haunting allegory of want, need and desire that transcends its fairy tale roots the same way that Neil Jordan's The Company of Wolves did back in 1984. Perkins creates an intimate form of terror that slowly burrows its way underneath the skin as if the film itself were trying to transform the viewer's DNA into something new, something different and something decidedly unnatural.
The focus on Gretel is vital to the film's success. Her transformation is astonishing. The way her initial wariness is circumvented by the wish to become more than what the male-dominated world at large insists she can be. How Holda uses the teenager's fear as a tool of seduction. The way her love for Hansel is deftly consumed by a bevy of waking dreams and sleepless nightmares designed to appropriate it as a tool of division instead of an anchor of familial togetherness. It is the good, bad and disconcertingly in-between of the full female experience, and as such truth is often found in a lie and falsehoods can be the gateway to a deeper understanding of the factual actualities of the entire human condition start to finish.
Lillis and Krige are exceptional. The actresses play off one another skillfully, Gretel and Holda becoming increasingly fascinated and worried by one another as their two personalities and life experiences become gradually more intertwined. This witch may be an evil scourge on the forest but the pain and the strife that lead her to such an end is pitiably moving. Gretel is virtuous, intelligent and steadfast in her belief she can make a better life for her brother, but that doesn't mean she still doesn't greedily hold it against the boy that her sacrifices for his well-being might be keeping her from living up to her full potential.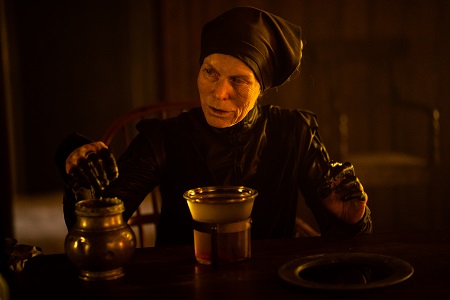 The two women are dual shades of grey, the only question being whether or not the younger of them will be tempted to slide more towards the Dark and sit alongside the older, or if instead she'd rather stay in a position where she still can bask in the power of the Light. Lillis and Krige dance around one another with pinpoint precision, and I was captivated by how the former's innocence melded so seamlessly with the latter's gnarled experience. Krige, in particular, is hypnotically magnificent, Holda the sort of tragically mesmeric villain I'll be thinking about for a long time to come.
Then there is the look of Perkins' film. Comparisons to recent genre favorites like The Witch and Mandy are likely inevitable. They also aren't entirely accurate. Jeremy Reed's (Hard Candy) production design, Leonie Prendergast's (The Turning) costumes and Galo Olivares' cinematography are all exquisite, while composer Robin Coudert's (Revenge) score is nothing short of perfect. Perkins utilizes all of these technical facets to create an aura of melancholic menace that is paralleled beautifully with an aspirational winsomeness that's imaginative and unique. This allows the director to add a layer of constant naturalistic dread that only grows in demoralizing majesty as the story moves towards conclusion, all of which makes Gretel & Hansel an ominous banquet of delights worthy of feasting upon.
Film Rating: 3½ (out of 4)