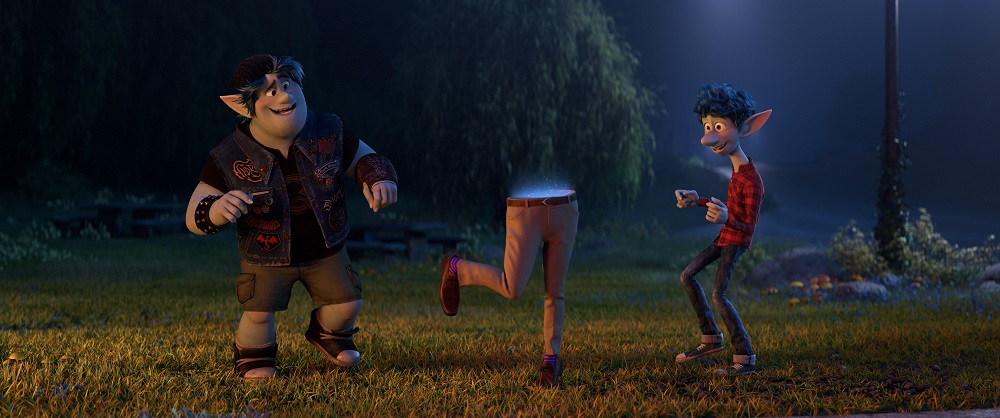 Pixar's Onward a Magical Road Trip of Brotherly Love
In a quiet suburban neighborhood in the city of New Mushroom, elf Ian Lightfoot (voiced by Tom Holland) is celebrating his 16th birthday with his loving mother Laurel (Julia Louis-Dreyfus) and his well-meaning oaf of an older brother Barely (Chris Pratt). Unbeknownst to either young man, Laurel's been secretly holding onto a present from their late father, a letter and a package that was to remain unread and unopened until this very day.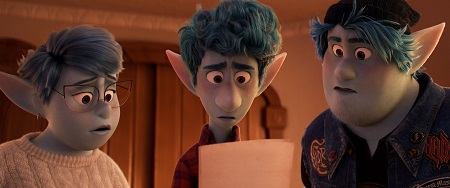 What they find is a bona fide wizard's staff along with a mystical jewel amplifying its power. The letter also includes a spell that allows the boys to bring back their father for one whole day. When Barley shows no magical aptitude, it falls to Ian to see what he can do. But something goes wrong, and before the birthday boy can complete the spell the jewel shatters, leaving their father as nothing more than a pair of legs, his upper half sadly missing.
From there Ian and Barely head off on an epic road trip quest to get another mystical jewel so they can complete the spell before the day ends and their dad vanishes for good. Along the way there is a lot of brotherly bickering, unexpected personal revelations, heartfelt life-lessons and an encounter with a gregarious Manticore (Octavia Spencer) who instead of fighting evil with her ancient sword now runs a medieval family-friendly eatery on the outskirts of town. It's all a bunch of colorfully anarchic, emotionally uplifting heartfelt supernatural silliness, all of which helps make Pixar's latest comedic adventure Onward a goofy good time I'd be excited to see again.
Director Dan Scanlon (Monsters University) and co-writers Jason Headley and Keith Bunin (Horns) have posited an amusing little fairy tale world where magic is passé and modern technological advances like cellphones, laptop computers, automobiles and airplanes have become far more convenient to utilize. It is a realm where fairies have forgotten how to fly, wear leather and ride around in motorcycle gangs. A universe where feral unicorns scrounge through the trash looking for scraps. In short, it's a pretty gosh darn imaginative place, and it's a safe bet kids of all shapes and sizes will look at it all in wide-eyed glee.
Does it go a lot deeper than that? No. Not really. The first half is particularly rudimentary, recalling in some ways a wacky melding of a couple of DreamWorks favorites, The Croods and The Road to El Dorado, only with a fantastically magical "World of Warcraft" (but in the modern world) twist to make things seem a bit more innovative than they actually are. The personal problems Ian and Barley work out during their time on the road are mostly rather obvious, and there were moments I started to wonder if I was watching a big budget animated Pixar spectacle or a rerun of on an old episode from the first or second season of "One Tree Hill."
Thankfully, and not unsurprisingly, Holland and Pratt are a terrific vocal pairing, the two have an engagingly comforting give-and-take that's wonderful. The former is notably outstanding, the Marvel Cinematic Universe's current Spider-Man giving a splendid performance that's a constant source of joy. I could feel all of Ian's strengths, weakness, anxieties and aspirations throughout his and Barely's quest to reunite their father's legs with the upper half of his body, his heroic blossoming into a self-confident young man ready to make new friends and find his place in an ever-changing world ultimately filling my heart with happiness.
There's also a splendid subplot involving Laurel and the Manticore. The pair also hit the road, becoming fast friends who each empowers the other to feats of greatness they didn't believe they were capable of as they try to warn Ian and Barley of a fire-breathing menace protecting the fabled gem they're trying to find. Louis-Dreyfus and Spencer are a charming comedic duo, and as good as they both are here I'd just love to see them team up again in a live-action film sometime soon.
It's the last third where Onward truly soars. The climactic stretch of the film is lovely, and as endings go the one Scanlon and his creative team deliver is remarkably close to perfect. The animation is stunning. The performances are exceptional. The script is honestly circumspect and empathetically aspirational. For me, this is the point where the emotions fueling Pixar's latest finally take flight, and as such the overall impact this story ended up having upon me could be described as nothing other than magic.
Film Rating: 3 (out of 4)