Latest Step Up Energetically Rhythmic B-Movie Nonsense
What exactly am I supposed to say about Step Up Revolution? It's not like this movie has any lofty aspirations. It's a 90-plus minute musical spectacle that's about 20 minutes of insipid dialogue, stilted acting and goofy plot and about 60 minutes more of jaw-dropping dance sequences. That's it. There isn't anything more, and I'm not entirely sure what else there is to talk about.
Admittedly, I've always been moderately fond of this series. The first one (which helped make Channing Tatum a bona fide star) has aged rather well, while the second one is legitimately good featuring a stunning rain-drenched climax. The third film was the first I didn't particularly care for, and even though the dancing was still fantastic the flick was so overstuffed with half-baked plot elements overall it was a rather middling affair. But even that one I didn't hate, the whole thing so silly and juvenile (in a good way) it was hard to hold any animosity towards it.
This fourth flick in the Step Up franchise is far superior to the third one (even though that's a fairly low bar to surpass). For one thing, it's idiotic plot (a group of Miami dancers engage in a series of flash mobs as part of a YouTube contest end up taking to the streets in protest when a greedy billionaire developer threatens to destroy their neighborhood to build a swanky resort complex) doesn't get in the way of the star-crossed love story. For another, the dancing is still sensational. Even better, said dancing never seems to end, the whole movie nothing more than a series of progressively impressive musical vignettes showcasing spectacular choreography and athletic dancers seemingly capable of just about anything, including defying gravity.
On the actual plot side of the equation, I can't say I was expecting a ton from former "So You Can Think You Can Dance" contestant Kathryn McCormick, and she more or less lived up to those modest hopes. Her acting chops would be well suited to some drippy CW teen soap opera, her emoting skills still in the early stages of development. But her dancing? Well, not too surprisingly that's a completely different story entirely, and to say she floats across the screen like a pintsized powerhouse is a massive understatement.
She's Emily, the wealthy daughter of developer Bill Anderson (Peter Gallagher). Her love interest is Sean, a young man from the wrong side of the tracks who stages impromptu flash dance mobs with his best friend Eddy (Misha Gabriel), both of whom just happen to work at Anderson's posh Miami hotel. Sean is played by fellow newcomer Ryan Guzman, a former MMA fighter who's appeared in various commercials and worked as a male model. He's not a complete emotional blank slate, but he's close to being one, and it's only when he's gliding across the floor with McCormick that he manages to showcase any semblance of life.
As for the dancing? As I've already stated, it's incredible. It's like producer Adam Shankman (Rock of Ages, Hairspray) keeps this series going if only to keep his "So You Can Think You Can Dance" choreographers (and former contestants) gainfully employed. They continually pull out all the stops, staging numbers that get larger, more eye-popping and increasingly magnificent as the film progresses. Everything culminates in a shipyard extravaganza where characters from this film as well fan-favorites from the past three gleefully interact, the last ten minutes a visually kinetic marvel that had me wanting to rise to my feet and cheer.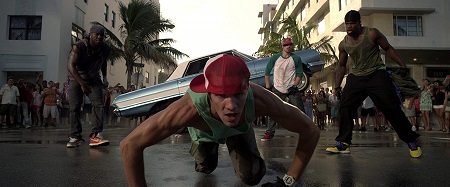 Why a shipyard? Better as why not a shipyard? It makes no sense for this climactic moment to be set here, and considering what's at stake (Anderson is getting permission from the Miami mayor to go forward with his development, the community in attendance to hear how it will affect them) it sure as heck feels like there should be more bystanders and a heck of a lot more security. Yet the moment is so exuberant, so full of life, so overflowing in vitality and passion I almost couldn't help but love it.
There you have it. You get what you pay for with Step Up Revolution, and if one is willing to purchase a ticket, probably in 3D, chances are they won't be disappointed. Is the movie good? No. It's isn't. Does it still get the job done? Does it still entertain? Heck yes it does, and as far as rhythmic beats of glistening over-produced pop music B-movie nonsense goes this is a toe-tapping good time I found impossible to dislike.
Film Rating: 2½ (out of 4)