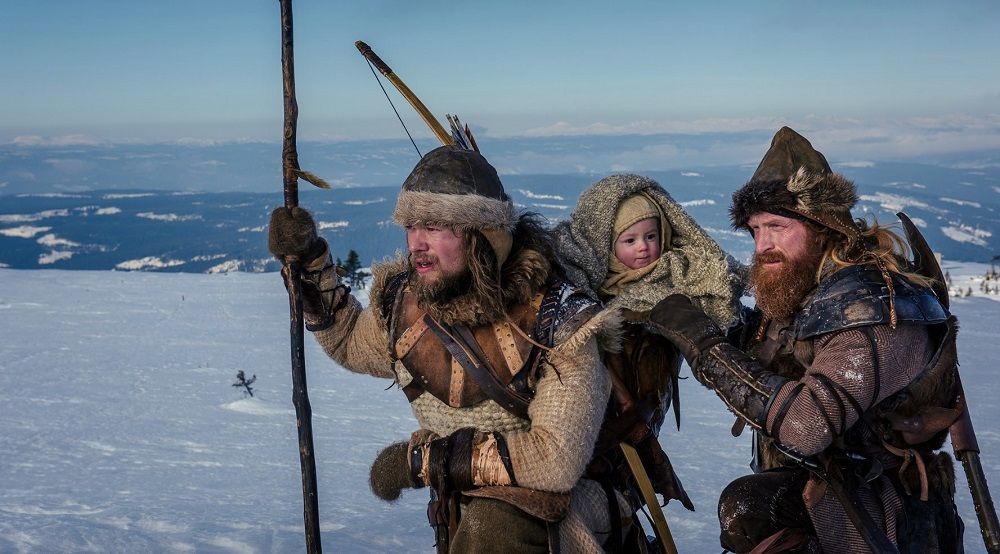 The Top 100 Movies of 2016
Once again, I slowly tracked everything I watched in 2016, compiling a massive master list of my favorite films, placing them in some rough order of preference as I went along. As of the publication of this article, I'd watched 519 features for the very first time, 255 of which were released to domestic U.S. theatres during the calendar year.
With all that in mind, here are the Top 100 films of 2016 as I see them. Please note, unlike on previous pages, documentaries and 2015 releases that saw U.S. distribution this year have not been sorted out. It's all together in one giant bundle. Enjoy sifting through them all.
1. The Innocents (d: Anne Fontaine)
2. Hell or High Water (d: David Mackenzie)
3. Moonlight (d: Barry Jenkins)
4. Love & Friendship (d: Whit Stillman)
5. 13th (d: Ava DuVernay)
6. Under the Shadow (d: Babak Anvari)
7. Certain Women (d: Kelly Reichardt)
8. Hidden Figures (d: Theodore Melfi)
9. 10 Cloverfield Lane (d: Dan Trachtenberg)
10. Pete's Dragon (d: David Lowery)
11. Knight of Cups (d: Terrence Malick)
12. Jackie (d: Pablo Larraín)
13. Rogue One: A Star Wars Story (d: Gareth Edwards)
14. La La Land (d: Damien Chazelle)
15. Viva (d: Paddy Breathnach)
16. The Witch (d: Robert Eggers)
17. A Monster Calls (d: J.A. Bayona)
18. Nina Forever (d: Ben Blaine, Chris Blaine)
19. The Edge of Seventeen (d: Kelly Fremon Craig)
20. Loving (d: Jeff Nichols)
21. Indignation (d: James Schamus)
22. Manchester by the Sea (d: Kenneth Lonergan)
23. Only Yesterday (d: Isao Takahata)
24. I, Daniel Blake (d: Ken Loach)
25. The Love Witch (d: Anna Biller)
26. Green Room (d: Jeremy Saulnier)
27. Queen of Katwe (d: Mira Nair)
28. Arrival (d: Denis Villeneuve)
29. Paterson (d: Jim Jarmusch)
30. Kubo and the Two Strings (d: Travis Knight)
31. The Fits (d: Anna Rose Holmer)
32. Things to Come (d: Mia Hansen-Løve)
33. Fences (d: Denzel Washington)
34. Rules Don't Apply (d: Warren Beatty)
35. Captain Fantastic (d: Matt Ross)
36. Christine (d: Antonio Campos)
37. Cameraperson (d: Kirsten Johnson)
38. Nocturnal Animals (d: Tom Ford)
39. De Palma (d: Noah Baumbach, Jake Paltrow)
40. Finding Dory (d: Andrew Stanton, Angus MacLane)
41. Weiner (d: Josh Kriegman, Elyse Steinberg)
42. Sing Street (d: John Carney)
43. Little Men (d: Ira Sachs)
44. Long Way North (d: Rémi Chayé)
45. A Hologram for the King (d: Tom Tykwer)
46. The Wailing (d: Na Hong-Jin)
47. Gleason (d: J. Clay Tweel)
48. The Wave (d: Roar Uthaug)
49. The Autopsy of Jane Doe (d: André Øvredal)
50. Midnight Special (d: Jeff Nichols)
51. American Honey (d: Andrea Arnold)
52. 20th Century Women (d: Mike Mills)
53. One More Time (d: Robert Edwards)
54. The Lobster (d: Yorgos Lanthimos)
55. Hail, Caesar! (d: Joel Coen, Ethan Coen)
56. The Dressmaker (d: Jocelyn Moorhouse)
57. The Handmaiden (d:  Chan-wook Park)
58. Tag (d: Sion Sono)
59. Swiss Army Man (d: Dan Kwan, Daniel Scheinert)
60. Louder Than Bombs (d: Joachim Trier)
61. Demon (d: Marcin Wrona)
62. The Nice Guys (d: Shane Black)
63. The Jungle Book (d: Jon Favreau)
64. A Bigger Splash (d: Luca Guadagnino)
65. The Eagle Huntress (d: Otto Bell)