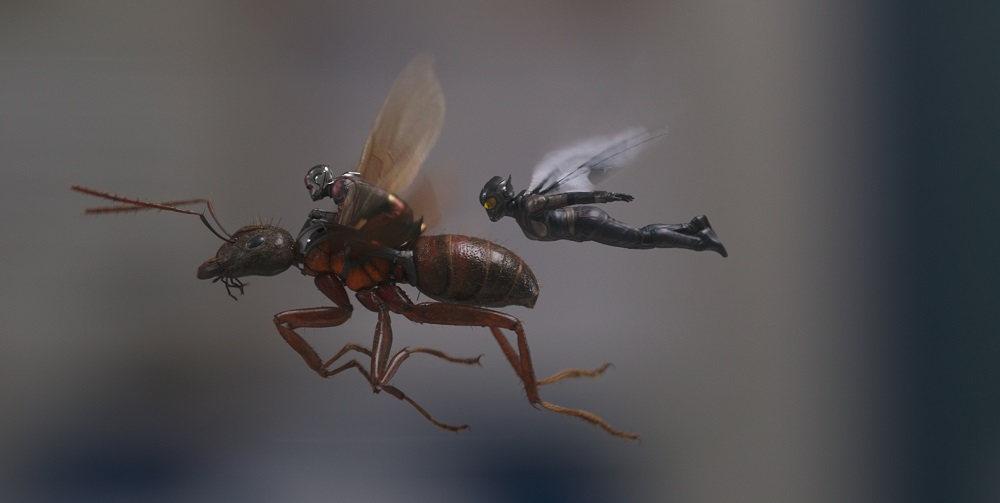 Ant-Man and the Wasp a Breezily Adorable Good Time
It's been almost two years since Scott Lang (Paul Rudd), otherwise known as Ant-Man, went to Germany and assisted Captain America and his team against Iron Man and his supporters. After cutting a deal with the U.S. government he's been under house arrest since he returned to America, ordered to not have any contact with inventor Dr. Hank Pym (Michael Douglas) or his headstrong daughter Hope Van Dyne (Evangeline Lilly), a.k.a. the Wasp, both of whom are currently wanted by the F.B.I. But with only three days until his ankle bracelet is removed and he can go back to being a free man, Scott has an all-too-real vision Janet Van Dyne (Michelle Pfeiffer), Hank's wife and former crime-fighting partner, lost decades ago when she shrunk herself past the point of no return and ended up lost inside the Quantum Realm.
Scott contacts Hank and Hope, leaving them a message about what he believes was a rather messed-up dream. What he doesn't know is that the two of them have been working on a plan to head into the Quantum Realm on a mission to see if Janet is still alive. Now, with this information from Scott, they think they're finally ready to put their theories into action. But unbeknownst to all of them they've been under surveillance by the mysterious Ghost (Hannah John-Kamen), and for reasons of her own she wants access to the Quantum Realm, too. Stopping her from gaining untold power will require both Scott and Hope, Ant-Man and the Wasp, to set aside their differences and work together as a team, and there is no guarantee the two of them are going to be able to do it.
Transpiring at roughly the same time as the events depicted in this past May's Avengers: Infinity War, it will come as little surprise that Ant-Man and the Wasp is a far more lightweight affair than its Marvel Cinematic Universe (MCU) forbearer was. Director Peyton Reed, who also helmed 2015's Ant-Man after picking up the reins when filmmaker Edgar Wright made the decision to depart, stages things with a playful exuberance that's easy to get caught up in. He and his large screenwriting team (which includes Rudd) have composed a scenario that, at its core, is rather adorable. While there is a life and death struggle at the center of all of this, in all honesty the stakes as far as this sequel are concerned are really rather low. It's all kind of silly, and considering the ways in which the film plays with perspective and size with such jovial high spirits it's likely this ridiculousness is completely by design.
I wish the movie did more as it pertains to Janet Van Dyne being trapped inside the Quantum Realm. It's like this entire subplot is just some massive red herring designed to pique the audience's interest and little else. While there's plenty of mystery as to what happened to Janet and what spending thirty-plus years inside the Quantum Realm might do to a person, it's clear Reed and company aren't interested in exploring any of that, at least not right now. Instead, it's all just some sort of vague mystery that holds emotional sway over Hank and Hope for rather obvious reasons, and it's a pity that it never meant all that much to me whether or not their plan would be successful and that they might be able to find Janet in order to bring her back to the modern world alive.
What I did like was the film's central antagonist Ghost. She's not quite a villain. She's also unquestionably not a hero. Instead, she's a tortured youngster who was struck down by science-gone-wrong at an age before she could completely understand what had happened to her and why. Ghost's relationship with her only mentor and guardian is surprisingly affecting, and by the time things came to their rather foregone conclusion I truly cared if she was going to succumb completely to her dark side and become too dangerous an adversary for either Scott or Hope to be able to stop. John-Kamen is excellent, the young British actress making an immediate impression as she brings a level of introspective pathos to her performance that's wonderful. If anything I wanted more of her, and it's almost a shame the movie does make more use of her than it ultimately does.
Much like the first Ant-Man, Reed also makes sensational use of his primary cast, and not just Rudd, Douglas and Lilly, the latter of whom once again steals just about every scene she's a part of with electrifying ease. Abby Ryder Fortson returns as Scott's smart-as-a-button daughter Cassie, her chemistry with Rudd as the pair mischievously engages in their father-daughter banter sublime. Michael Peña is also back as the fast-talking, story-telling Luis, and his obvious affection for the character can be felt in every single syllable he utters. Then there is Laurence Fishburne as one of Hank's former science partners Dr. Bill Foster. This is an unusually strong and complicated supporting character, at least as far as the MCU is concerned, Fishburne delivering a heartfelt, movingly authentic performance I utterly captivated by.
I'm not sure what Walton Goggins is doing here other than to add a layer of pointless danger to the proceedings that this sequel frankly doesn't need, while the less said about the ineptly written F.B.I. agent Jimmy Woo that Randall Park is forced to play the better, his cloying comic relief neither humorous nor endearing. But I do still love the way Reed utilizes all of the visual possibilities at his disposal, the frequent changes in size and scale adding a layer of creative whimsy I couldn't help but love. There's also a great opening flashback with Hank and Janet that blew me away, and I can only hope that if Pfieffer is signed on to appear in more of these MCU adventures she'll get to do more than flash that mega-star smile for what can only be described as a glorified cameo.
But I enjoyed Ant-Man and the Wasp, and I do adore the fact that, other than its requisite post-credit stinger scene, the whole story is one single self-contained effort that doesn't really require the viewer knows a heck of lot more about the MCU other than the fact each story has a few superheroes in it. This is a breezy, fast-paced sequel that goes out of its way to provoke buckets of laughter and massive sighs of wide-eyed awe in pretty in equal measure. It's a fun film, and other than that I have little more to say.
Film Rating: 3 (out of 4)