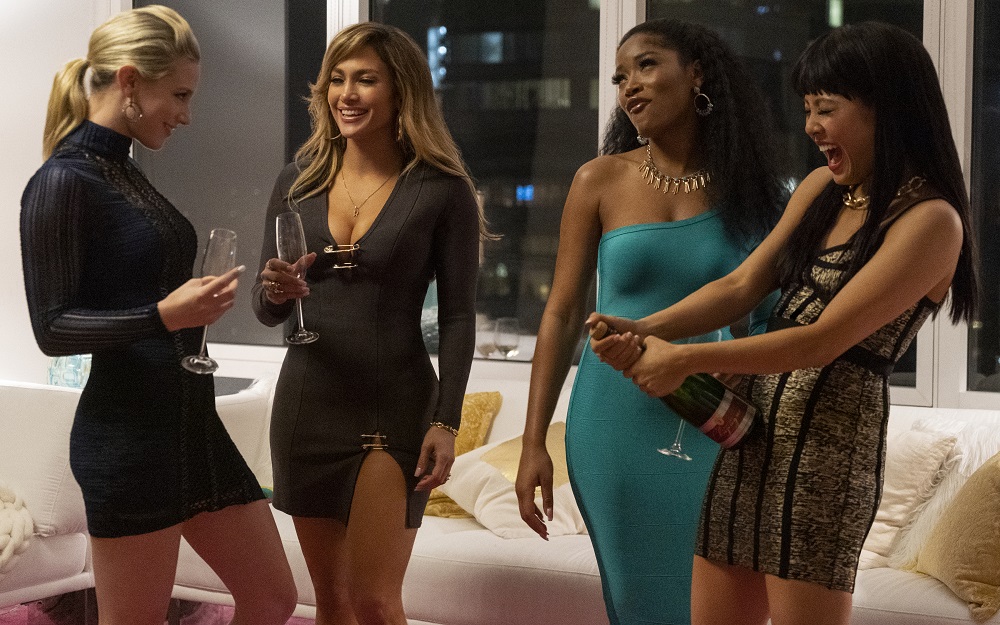 Magnificent Hustlers a Dynamic Dance of Female Empowerment
Not going to lie. I didn't see Hustlers coming. Don't get me wrong. With a diverse multicultural cast of trailblazing female talent featuring the likes of Constance Wu, Jennifer Lopez, Keke Palmer, Lili Reinhart, Trace Lysette, the criminally underrated Julia Stiles and Oscar-winner Mercedes Ruehl (not to mention popular recording artists Cardi B and Lizzo), and based on journalist Jessica Pressler's New York magazine article "The Hustlers at Scores," I can't say my interest in getting a look at the movie certainly wasn't piqued. I have also enjoyed a couple of writer/director Lorene Scafaria's previous efforts, notably Seeking a Friend for the End of the World and The Meddler, so while I never thought this comedy-drama about New York strippers scamming Wall Street bankers was going to be amazing, I just as readily hoped it would be an entertaining, well-acted and an amusing good time at the theatre.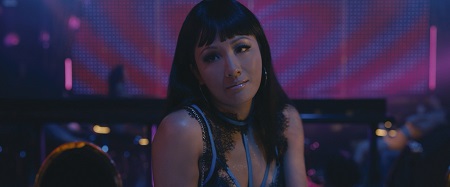 While that latter thought was proven to be true, I was wrong about the first half of that statement. Hustlers isn't just amazing, it is one of 2019 best films. This exhilarating motion picture is a fast-paced drama about a collection of women taking charge of their situation after the 2008 banking crisis leaves them all on the brink of financial devastation. It is a rousing, emotionally-moving story of female empowerment, friendship, family and sexual liberation that defies expectation and overflows in character-driven surprises, refusing to judge its protagonists for their choices while at the same time still holding them accountable for their various missteps.
Destiny (Wu) is a young woman working at upscale New York strip club Scores. It is 2007, and she's doing whatever she can think of to keep a roof over her grandmother's head. She is taken under the wing of veteran dancer Ramona (Lopez), quickly learning all of the best ways to milk Wall Street bankers out of thousands of dollars a night while also getting a new best friend in the process. Soon Destiny knows all the tricks of the trade, paying off her grandmother's house while also earning enough to afford a downtown apartment for herself, getting a taste for the finer things in life (like designer clothes, shoes and handbags) in the process.
Fast-forward a couple years. The financial and housing crisis of 2008 has taken its toll. Destiny, no longer a stripper and now with a 2-year-old child, is barely getting by. Returning to Scores she discovers it is a completely different place, most of the familiar faces all gone and the majority of the girls now Russian immigrants willing to turn tricks for cash in the camera-less champagne rooms. Running into Ramona by chance, the former friends quickly fall back into one another's arms, their familial bond soon stronger than it ever was before. In fact, she's got a new way to make money, one that takes advantage of those Wall Street bankers who helped financially devastate the country, none of whom would ever admit they've been bilked by a cadre of dancers working at a strip club. But as Destiny diligently strives to ensure their venture won't catch the eye of authorities, Ramona keeps wanting to take these men for more and more money, and in doing so opens up her and her gaggle of entrepreneurial girls to the type of legal danger that could land each and every one of them in jail.
Hustlers is basically a female-driven The Big Short as told through the eyes of working class everywomen who are belittled, spat upon, ridiculed and forgotten about in large part thanks to how they've chosen to make their living. Scafaria takes this true story, fictionalizes a few bits and pieces of it, grounds it in an authentic, hardscrabble milieu and makes sure to put the evolving friendship of Destiny and Ramona right at the center of the maelstrom. The ups, the downs, the various in-betweens, all of that is here. Their love for one another is palpable, as is their mutual regret when things fall apart. The pain they feel is deeply profound. While some of their wants and needs are clearly superficial, the majority are anything but, each woman selflessly doing whatever they can to do what's best for their respective families.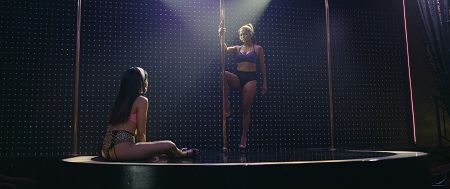 Lopez has never been better. As great as she was in Out of Sight, as solid as she's been in stock Hollywood programmers as varied as Anaconda or Maid in Manhattan or in riskier ventures like The Cell or El Cantante, and as strong as her work in NBC's "Shades of Blue" was, the actress is nothing short of stellar as Ramona. From her dynamic, eye-popping movie star introduction set to Fiona Apple's "Criminal," to a rooftop moment of comfort luxuriating inside a massive fur coat with Wu, to a heartbreaking tear of understanding and anger outside a police precinct on the streets of New York, Lopez is extraordinary. She mines emotional territories that are stirring in their furious indignant naturalism, and the way Ramona fearlessly attempts to rise above the fray and make the world a better place for her own daughter is decidedly personal. But the actress never sugarcoats any of her character's actions, and as understandable as many of her choices might be that doesn't mean she doesn't still deserve to be held accountable for her more heinous and unconscionable actions.
The rest of the cast is equally strong. Even though it's a small role it's wonderful to see Ruehl back on the screen. Same goes for Stiles. As the reporter trying to tell this story for the women, she shares several subtly multifaceted scenes with Wu that are far more integral to the overall narrative than initially meets the eye. Palmer and Reinhart are both delightful as the two women who first join Ramona in her scheme to scam those Wall Street doofuses, and while neither Cardi B or Lizzo have major roles both singers make the most of their few scenes, each doing so with a gonzo comedic brio that brought a smile to my face. As for Crazy Rich Asians star Wu, she's virtually unrecognizable as Destiny, the young actress showcasing that she's a hugely talented star on the rise I'm going to be talking rapturously about for decades to come.
I loved Scafaria's Seeking a Friend for the End of the World. I wholeheartedly enjoyed The Meddler. Her script for Nick & Nora's Infinite Playlist is wonderful. None of that prepared me for what it is she accomplishes with Hustlers. This is a movie that goes for broke right from the jump, it's feminine gaze directed oftentimes within as it celebrates these friendships, cherishing the familial bonds the women end up creating even as society turns a blind eye towards their collective travails. They are warriors, each making the most of the hand they've been dealt. They do not whimper. They do not whine. While they do shed a few tears that doesn't mean they are fragile or need some man to come and save them from the world's destructively inhuman ills. Scafaria is their champion, and her movie is their celebration, and I can't wait for audiences all over the world to get the chance to see that for themselves.
Film Rating: 4 (out of 4)