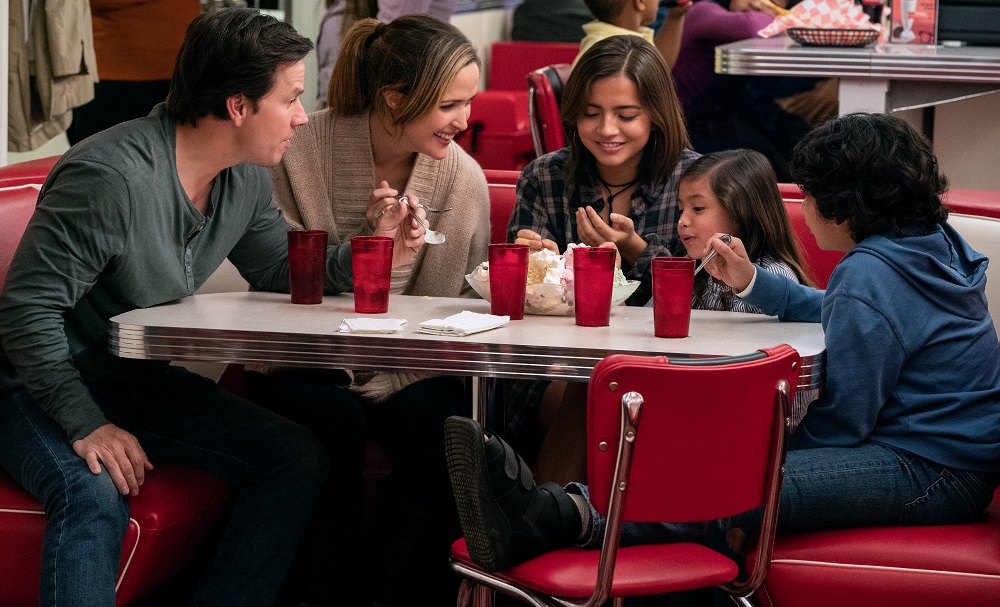 Warmhearted Instant Family an Enchanting Delight
Pete (Mark Wahlberg) and Ellie Wagner (Rose Byrne) have a good life. They have a successful business renovating old houses and then flipping them for a tidy profit. But their mutual obsession with forging a successful career had them put some of their other aspirations, especially as they pertained to children, on hold. After looking at adoption websites and reading literature pertaining to the volume of kids currently in the foster care system, Pete and Ellie decide to go to a local agency and take all the necessary classes to maybe become foster parents themselves. At the end of this training the couple takes three children, opinionated teenager Lizzy (Isabela Moner) and her two younger siblings Juan (Gustavo Quiroz) and Lita (Julianna Gamiz), into their home. But this form of instantaneous parenthood isn't without its challenges, and it soon becomes a genuine question whether or not this ragtag quintet can become the one thing all of them desire most: a family.
Inspired by his and his wife's adoption of three children, including a teenager, and the ups, downs and unexpected in-betweens they all ended up experiencing as they built their lives together, director and co-writer Sean Anders has outdone himself with the emotionally resonate Instant Family. The man behind such over-the-top comedic entertainments like Sex Drive, Horrible Bosses 2 and the two Daddy's Home motion pictures tones things down considerably for this thought-provoking and warmhearted drama. Working again with frequent screenwriting collaborator John Morris (Mr. Popper's Penguins, She's Out of My League), Anders has brought a story to life that mostly eschews cheap humor or overt sentimentality and never feels melodramatically ponderous or takes itself too seriously. It's an honest film filled with laughs, tears, heartache and smiles, everything building to a suitably uplifting conclusion that sent me out of the theatre feeling as if all was right with the world and everyday people truly can make a positive difference if only they choose to do so.
Not that the director can't check himself completely. There are plenty of instances where he allows things to descend into a comedic abyss that doesn't feel entirely genuine. As lovely as it is to see Airplane and Lost in America legend Julie Hagerty up there on the screen as Ellie's mother, what Anders asks her to do is oftentimes so obnoxiously cartoonish her appearances don't anything substantive. Margo Martindale, as Pete's jovially eccentric mom, fares a bit better but not much so, her excitable exuberance wearing a little thin. There are also some strange cameos near the end that took me entirely out of the movie for a brief second or two, one in particular during the stretch where Pete and Ellie are pulling out all the stops to get Lizzy to understand just how much they truly do care for her and her siblings particularly so.
Yet the core of the film is so strong, so pure, that any missteps Anders might take with this story don't feel as egregious or as damaging as they have in many of his more unabashedly slapstick endeavors. Pete and Ellie's marriage is genuine, as is their desire to help others and to try to form a lasting familial bond with Lizzy, Juan and Lita. I really loved how the film took the time to show how hard foster parenthood can be, that it didn't soft peddle or sugarcoat any of the inherent difficulties. I also like that Anders balanced the comedy and drama with such deft precision, the ability to laugh when dealing with trauma an almost automatic defense mechanism for most that shouldn't be minimized. Most of all, even with some fairly outlandish subplots and narrative asides, the heart beating at the center of this movie is vibrant and strong throughout, its refreshing sincerity filling my soul with joy.
This is one of Wahlberg's most likable performances. The smugness that can frequently be a part of what he brings to the table, at least in a few of his more recent efforts like the risible Mile 22, Daddy's Home 2, the two Ted films or even in the otherwise excellent All the Money in the World, is missing here, his work as Pete a pleasant reminder just how charming the actor can be when he sets his mind to it. The scenes between him and Moner are especially strong, while his comedic back-and-forth rapport with Octavia Spencer and Tig Notaro, portraying the two social workers running the local foster care facility, is excellent.
Byrne is even better. Granted, for those who have watched her bravura turns in features as diverse as Juliet, Naked, Spy, The Meddler, Bridesmaids, Get Him to the Greek and the two Neighbors films this will likely not come as much of a surprise. The actress is superb as Ellie, building layers of emotional nuance that are consistently compelling. Byrne makes Anders and Morris' script come alive in ways that amazed me, watching her give so much of herself over to the character a pure, dramatically satisfying treat I wanted to stand up and cheer.
There are elements of the film that do stumble into treacle. Also, as already mentioned, there were other instances where the comedy threatened to overwhelm things in ways that came perilously close to becoming inappropriately off-putting. But it's clear just how important this story is to Anders, and as such the director finds a way to re-center things whenever Instant Family starts to come close to going off the rails. This is a marvelously enchanting drama overflowing in good vibes and even better intentions, all of it coming from a place of a truthful authenticity that's nothing short of wonderful.
Film Rating: 3 (out of 4)
Additional Link:
Interview with writer/director Sean Anders