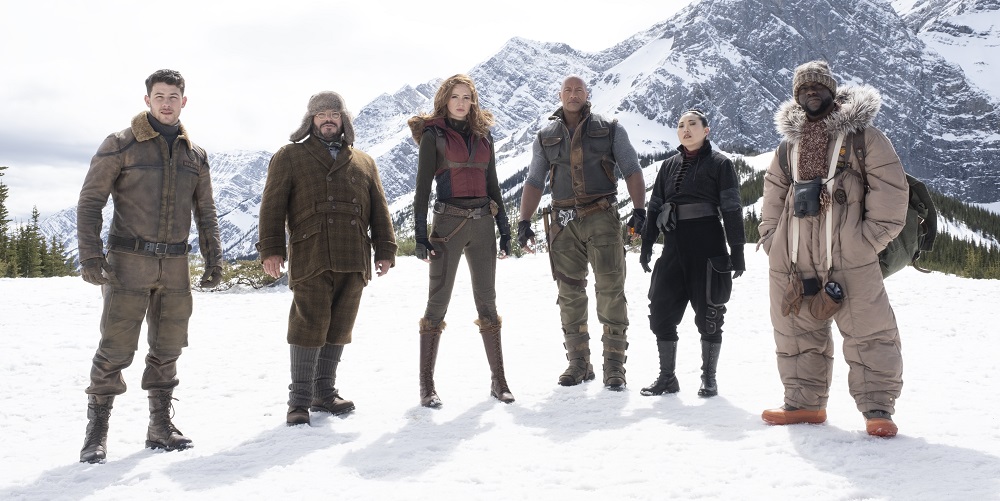 Game Jumanji: The Next Level a Goofily Imaginative Sequel
Returning to Brantford, New Hampshire for the first time since leaving for college to spend the holidays with their families, friends Spencer (Alex Wolff), Martha (Morgan Turner), Fridge (Ser'Darius Blain) and Bethany (Madison Iseman) are excited to be reunited. Well, all four of them save Spencer. He's in a bit of a funk. College isn't going as he anticipated. He's worried he isn't good enough for Martha. He thinks his friends and family are disappointed in him. On top of all of that, Spencer comes home to discover he's sharing his bedroom with his cranky grandfather Eddie (Danny DeVito) who is recovering from hip surgery. In his mind things couldn't be worse, and there's precious little he can do about any of it.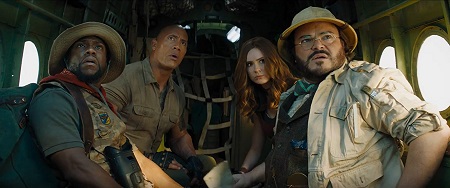 Or is there? Unbeknownst to his friends, Spencer kept the pieces of the Jumanji game console the four of them destroyed not so long ago. When Martha, Fridge and Bethany come looking for him, all they find is an empty basement and that cursed video game's home screen flickering on the television. Knowing they have no other choice, the group head back into Jumanji to save Spencer, believing he'll be back in the avatar of hunky adventurer Dr. Smolder Bravestone (Dwayne Johnson) while they'll in turn be reunited with their own game personas of Ruby Roundhouse (Karen Gillan), Mouse Finbar (Kevin Hart) and Dr. Shelly Oberon (Jack Black).
That things do not work as planned goes without saying otherwise what would be the point of this third chapter of the Jumanji franchise Jumanji: The Next Level existing in the first place. Only Martha ends up where she thought she would, while both grandpa Eddie and his estranged friend and former business partner Milo (Danny Glover) are mysteriously sucked into the game instead of a perplexed Bethany. As for Fridge, he made it inside the game, but instead of becoming Mouse he's instead stuck inside Dr. Oberon, a strange turn of events he's not happy with.
Returning director Jake Kasdan balances all of these various characters and situations with playful skill, the screenplay he co-scripted with writers Jeff Pinkner (Venom) and Scott Rosenberg (Con Air) an enjoyable bit of energetic, character-driven nonsense that's a heck of a lot of fun. Much like 2017's Jumanji: Welcome to the Jungle, this goofy lark into video game mayhem has a sparkling comedic pizazz that's infectious. Even more impressive, Kasdan stages better action scenes for this outing, a climactic set piece set inside an icy mountainside lair featuring a massive hydrogen-fueled zeppelin a vast improvement over the previous film's somewhat ho-hum climax.
I also like how the sequel isn't content to just safely do the same thing over again, and while Black once again steals the show while channeling his inner Ser'Darius Blain, both Johnson and Hart shine as well as they take on the challenge of inhabiting the personas of Danny DeVito and Danny Glover respectively. There's also the introduction of a hilarious Awkwafina as crack video game thief and assassin Ming, her performance an uproariously inventive tour de force I found sensational.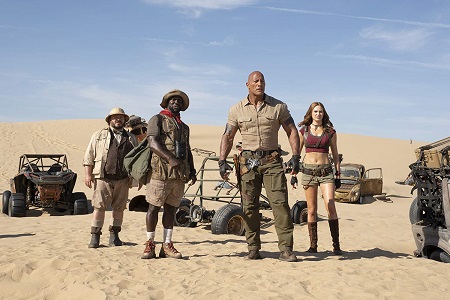 It all feels a little too padded every now and then, and while former "Game of Thrones" heavy Rory McCann undeniably looks the part as villainous thug Jurgen the Brutal, I can't say the film does enough with him for the character to become truly hissable. The way Bethany and another returning character are both re-introduced into the story isn't entirely organic and comes off as moderately forced as well, their appearance more a contrived and convenient way to get the gang out of a sticky situation than it is a well planned plot twist.
But as complaints go that's pretty much all I've got. For my money I think this is the best cinematic entry into the world created by author Chris Van Allsburg yet. Kasdan seems to have a knack for making this material come alive, refusing to let the larger-than-life special effects or the outsized comedic performances of his all-star cast overshadow the journey the four primary young adult characters are on. Jumanji: The Next Level continues a story begun way back in 1995 with wit, intelligence, imagination and creativity, and I'm honestly a little shocked to admit that I cannot wait to see where things go next.
Film Rating: 3 (out of 4)