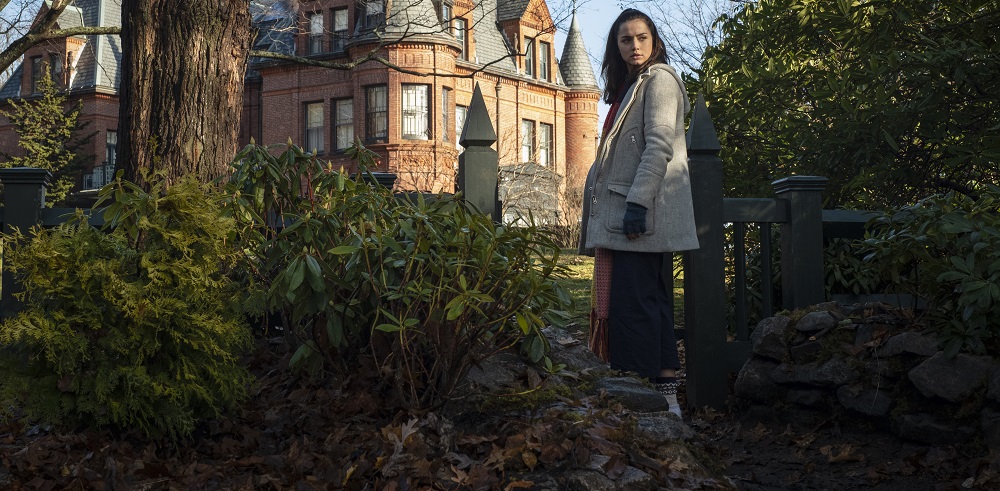 Satirically Malevolent Knives Out a Triumphant All-Star Murder Mystery
Southern private investigator Benoit Blanc (Daniel Craig) has been dubbed "the last of the gentleman sleuths." An anonymous employer has tasked him with traveling to the secluded mansion of deceased author Harlan Thrombey (Christopher Plummer) to investigate if the man's death was the suicide the police believe it to be. Once on the premise he is introduced to the entire Thrombey clan, their children and their relevant significant others. He also makes the acquaintance of Harlan's beloved nurse and trusted friend Marta Cabrera (Ana de Armas), the one person the entire family seemingly can't say a single bad thing about.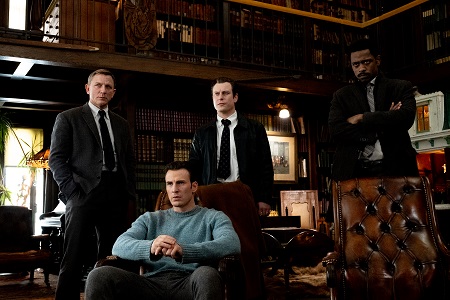 Blanc suspects foul play even if investigating detective Lieutenant Elliott (LaKeith Stanfield) and local county officer Trooper Wagner (Noah Segan) think he's barking up the wrong tree. But with Marta's help he thinks he can show Harlan's death wasn't what it appears to be, the private sleuth determined to hold whomever it is accountable for planning, executing and attempting to enjoy the massive financial fruits of devilishly heinous crime.
Rian Johnson's marvelous who-done-it (and how'd-they-do-it) all-star murder mystery Knives Out is more than just a witty modern-day riff on a familiar Agatha Christie-like scenario. The man behind films as diverse as Brick, The Brothers Bloom and Star Wars: The Last Jedi has a lot on his mind with this story. His intelligently dexterous screenplay is a scathing evisceration of wealth inequality and racial biases while still managing at the same time to be an engagingly terrific thriller overflowing in amusing twists and turns. Much like Bong Joon Ho's Parasite Johnson's latest is a satirically malevolent gold mine that refuses to follow the rules of the genre its narrative exists within, all of which helps make it an explosively entertaining triumph worthy of multiple views.
The fun of this "eat the rich" scenario is watching how the members of the Thrombey family are so willing to turn on one another when they feel for even a passing second that their precious inheritance might suddenly be in jeopardy. They don't even do that great a job pretending to be a loving bunch, their open contempt for one another blatantly out in the open for Blanc to analyze under his all-seeing psychological microscope. This makes their collective affinity for Marta both calculated and suspect, and while they talk a great game about her being a part of the family, their support of the young woman isn't nearly as selfless or as egalitarian as it might look.
It's readily apparent that this is the character Johnson wants the audience to relate to and respect more than any of the others. Marta has reason to be fearful of what is happening inside the house. At the same time, she also has the most to lose if things go sideways. Even so, her innate goodness shines through even when things go tragically wrong, the luminous de Armas allowing all of the many emotions the nurse is feeling to shine through no matter how personally catastrophic her situation might appear to be. It's a subtly heartfelt performance that grows in intricate resonance as the story unfolds, the actress having marvelous chemistry with practically all of her costars, especially Craig, Plummer and a roguishly charming Chris Evans (as Harlan's acid-tongued black sheep grandson Ransom Drysdale).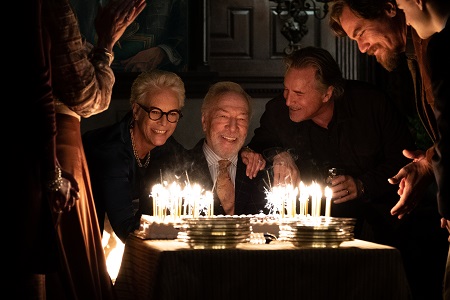 Not sure the actual murder mystery is all that difficult to solve and I'm pretty sure I had the things figured out roughly halfway through. But I do like that, even with the flashback-heavy Rashomon-like structure of the scenario, Johnson allows the audience to put the majority of the pieces of this puzzle together roughly at the same rate Blanc does. Additionally, the answer to the question of whether or not Harlan was murdered or if it was indeed suicide ends up not being nearly as important as how Blanc's presence in their family home forces the Thrombeys to peel off the masks they wear day-in and day-out and finally reveal their narcissistic ugliness to the world. It's like Johnson has mashed-up The Discreet Charm of the Bourgeoisie with Ten Little Indians and added a dash of Clue for good measure, doing so with such likeably confident aplomb I can't help but be impressed.
The cast, which includes Jamie Lee Curtis, Toni Collette, Michael Shannon, Don Johnson, Katherine Langford, Frank Oz, K Callan and M. Emmet Walsh, is outstanding, each member making the most of every second they happen to be on the screen. But this is Plummer's, Evan's, Craig's and, as already mentioned, de Armas' show, all four giving unforgettable performances I adored. For Craig, once he turns in his James Bond tuxedo after appearing in next April's No Time to Die I'd be perfectly happy if he and Johnson decided to make Benoit Blanc a cinematic mainstay. This private detective needs to return for another mystery. That's it. That's the statement, and here's hoping the box office receipts for Knives Out are large enough for this to become a reality.
– Review reprinted courtesy of the SGN in Seattle
Film Rating: 3½ (out of 4)