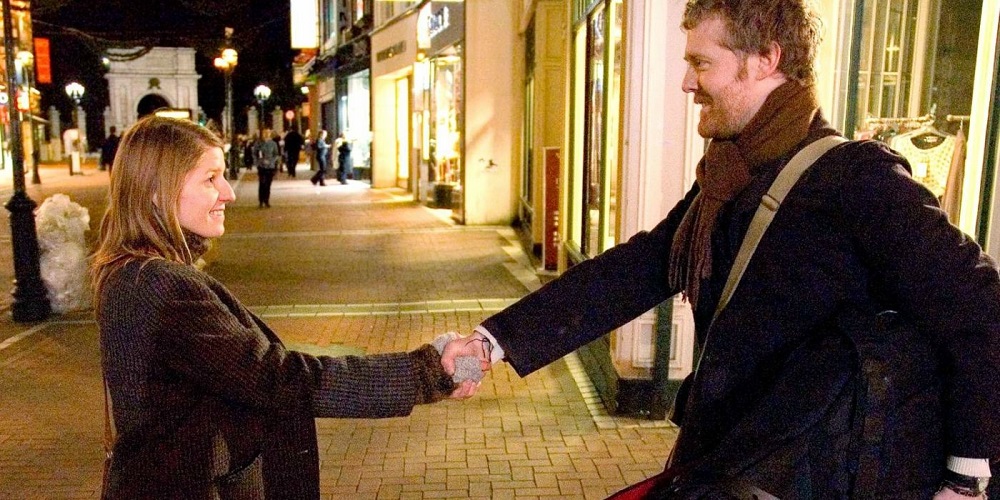 a SIFF 2007 review
Bittersweet Once a Musical Treasure
A "Guy" (Glen Hansard) is singing his heartfelt songs of longing and heartbreak on the street corner. A "Girl" (Markéta Irglová) watches him, intently studying his every move and listening to each note as if the fate of the world depended upon her doing so.
These two societal misfits with a musical longing become fast friends. They eventually join forces to put together a small band and record an album before the guy goes off to London to try and reconnect with the woman he loved and lost, and the girl drifts back into her former life with a newly born confidence she's capable of greatness.
The new independent musical Once, a smash success with both audiences and critics at this year's Sundance Film Festival, is a small miracle. It is easily one of the most triumphant pictures I've had the pleasure to see this year. I fell madly in love with each frame, each note, each nuance and each lyric. I've been unable to get it out of my head, my longing to go back and experience the film again only growing with each passing second.
What writer-director John Carney and stars Hansard and Irglová have accomplished is nothing short of extraordinary. So many modern musicals believe that the bigger, louder, brasher and more extravagant the better. They are wrong. This picture revels in the quiet, and it knows how to listen to its characters' inner voices and how to compose its wondrous self in their image.
For all their strengths, this is one thing Hollywood big-budget song and dance mega-projects like Dreamgirls, The Phantom of the Opera and The Producers oftentimes sadly lack. The best of them (Moulin Rouge, Chicago) can be fun, sure, but even they are so overeager to wow with razzle-dazzle they tend to forget about the human element.
I'm not sure what else there is to say. Hansard and Irglová are a modern-day Trevor Howard and Celia Johnson, portraying characters not too far removed from the ones depicted by that duo in David Lean's timeless 1945 adaptation of Brief Encounter. Instead of a train station, they meet on a street corner, and it is music, not the end of a World War, which brings them together. But their embraces are limited to touches on the shoulder, hugs of exuberance and looks of bittersweet longing, their story becoming an unrequited tale of love filled with such stirring emotion I couldn't help but cry.
As of this moment I have seen three perfect (or at least near-perfect) motion pictures in 2007. Two of them, The Lives of Others and Black Book, are actually 2006 releases, only opening this side of the Atlantic now. The third, David Fincher's Zodiac, was an under-seen police procedural masterwork audiences unforgivably slept on. As much as I adore them all, I think Carney's film is the one I will watch over and over again without hesitation. That is the glory of Once, a musical triumph I'll be singing the praises of for decades to come.
Film Rating: 4 (out of 4)