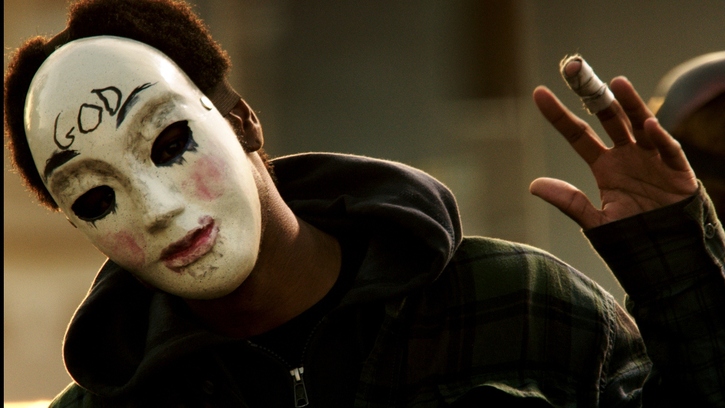 Latest Purge a Descent Into Madness, Mayhem
There are less than three hours until this year's Purge commences. Disgruntled marrieds Shane (Zach Gilford) and Liz (Kiele Sanchez) are trapped out on the downtown streets when their car is mysterious sabotaged, apparently by a gang of masked toughs looking to get their hands bloodied. Eva (Carmen Ejogo) and her teenage daughter Cali (Zoë Soul) are home, aghast and horrified by a goodbye letter left to them both by elderly patriarch Papa Rico (John Beasley). Mysterious soldier Leo (Frank Grillo), known to most as Sergeant, is getting ready to go out into the night, armed to the teeth, ready for war, not to lay waste indiscriminately but instead to exact revenge against a wealthy suburbanite who did his former family a horrific wrong.
None of them should have met, but when Eva and Cali's ramshackle apartment building is laid waste by an expertly trained team of commandos and Shane and Liz manage to secure themselves in the back seat of the Sergeant's souped-up armored vehicle, this man of action with a personal agenda finds himself at a moral crossroads. Not so much dropping his plans as putting them on the backburner, it becomes up to him to find this group a safe place to hide until the Purge comes to an end. But with groups of all kinds tracking their every move survival becomes increasingly unlikely, and soon it's almost as if the full force of the New Founding Fathers themselves are targeting the five for execution for reasons they can't begin to comprehend.
The Purge: Anarchy is the somewhat quickly produced sequel to last summer's self-contained surprise horror hit The Purge, a movie that posited that in the wake of an unimaginable spike in violence the populace of the United States voted in leaders who in turn crafted a new Constitution that changed the governing landscape considerably. One night a year, for 12 hours and 12 hours only, anyone and everyone can engage in just about any crime they can imagine, including murder, the idea being that by doing so overall criminality will go down as people won't feel the need to do such violent wrongdoing the remaining 364 days until the next Purge.
Returning writer/director James DeMonaco takes his somewhat ingenious, undeniably schlocky B-grade premise and runs with it in entirely new directions, opening up the world he created in order for the viewer to get a broad, more highly immersive perspective on just what it is that's going on during this 12-hour night of misery. It allows him to make his, not exactly subtle, satirical points about gun culture and rightwing ideology in firmer, more exacting terms, in many ways poking fun at the very audience who will potentially be buying tickets.
Not that many of them will notice. What they'll be looking forward to is nothing more than an expertly plotted, hyper-violent journey into adrenaline-fueled darkness filled with blood, guts, amazing stunts and incredible action, and on that front I'm hard-pressed to believe any of them will be disappointed. This is without a doubt DeMonaco's attempt to transform this sequel into something of a low rent Aliens, filling the screen with a ton more villainous activity while having a heroic military man lead a ragtag group of survivors to uncertain safety.
It's explosive, obviously nihilistic and undeniably sensationalistic stuff straight of the Roger Corman school circa the 1970s, and for those who enjoy that sort of thing this second chapter of The Purge story is intoxicating. Expertly shot and edited, niftily scored to within an inch of its life, utilizing a solid group of recognizable character actors familiar from both the big and small screens (Grillo was recently seen in Captain America: The Winter Soldier, while Ejogo, Gilford and Sanchez are all veterans of popular television shows), DeMonaco shows a confident hand orchestrating the mayhem bringing these grotesqueries to life with noteworthy skill.
On that front, The Purge: Anarchy is an undeniable success. It makes the insanity of the scenario feel oddly plausible, using the inherent menace lurking within it in ways that are emotionally unsettling even as they are almost equally fascinating on an intellectual level. But as social and political commentary? As a satire of the world we are currently living in and how it is spiraling in increasingly violent, confrontational directions? As a look at the political climate, the bourgeois intractability of the elite and the lack of power the middle and lower classes sadly have? It is way too obvious and much too heavy-handed, lacking anything close to subtlety banging the viewer over the head with its themes in a manner bordering on insulting.
Not that I minded. I liked the first film for what it was and, somewhat surprisingly, I enjoyed this sequel as well. I had a grand time going on the expedition Leo took Eva, Cali, Shane and Liz upon, finding myself increasingly curious just how far the rabbit hole they were going to be forced into descended before sunlight could be cast upon the survivors hopefully engulfing them in its comforting embrace. The Purge: Anarchy is an unapologetically violent exercise in sensationalistic mayhem, that fact is not up for debate, and for my part I'm fine with this, part of me even a tiny bit curious exactly where DeMonaco and company might be interested in taking things next.
Review reprinted courtesy of the SGN in Seattle
Film Rating: 3 (out of 4)