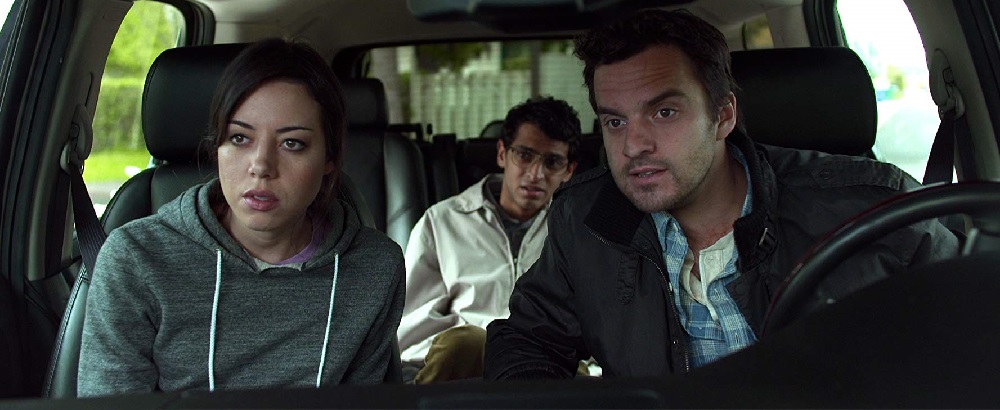 a SIFF 2012 review
Bewitching Safety Guaranteed to Spark the Imagination
Safety Not Guaranteed is not your normal time travel comedy/drama/romance/mystery hybrid. To put it more bluntly, Back to the Future meets Somewhere in Time meets Bill and Ted's Excellent Adventure this movie is not. It is, in fact, its own totally unique animal, Derek Connolly's inspired script a winning, thought-provoking treat that only gets better as it goes along.
"WANTED: Someone to go back in time with me. This is not a joke. You get paid after we get back. Must bring our own weapons. Safety not guaranteed. I have only done this once before."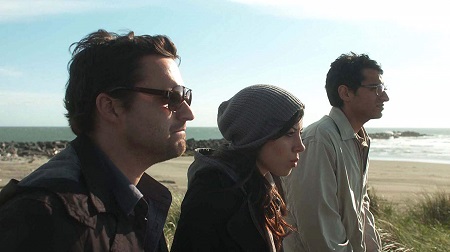 So reads the personal ad that sparks journalist Jeff's (Jake Johnson) interest. A writer for a relatively major Seattle magazine, he's ready to go on the road and find out what it was that possessed the advertisement's author, a mysterious relative nobody named Kenneth (Mark Duplass), to post it. Bringing along two interns, the quietly cynical Darius (Aubrey Plaza) and the bored, going through the motions wannabe biologist Arnau (Karan Soni), he sets out on a quest to do just that, curious about what they'll discover yet oddly disinterested at the exact same time.
Turns out, once the trio hit the small community of Ocean View he's got ulterior motives, searching out his ex-girlfriend Liz (Jenica Bergere) for reasons entirely his own. That leaves Darius to try and connect with Kenneth, her apathetic attitude about life, and more importantly his quest, endearing her to him for some strange reason. This leads the two into a realm of faith and trust neither every could have anticipated but both are in desperate need of.
I love this film, plain and simple. There's no other way to put it. Connolly's script has a ton on its mind and moves into some pretty unique places. It uses that legendary Pacific Northwest personal ad as its launching pad and then goes into ingenious territory from there, everything that happens a waterfall of creativity that held me fascinated.
But the reasons this melodious little puzzle box ends up working as well as it does has little to do with any of the script's subtly engaging misdirection or newbie director Colin Trevorrow's confident handling of the material. It works because everything is rooted in honest human emotions and cemented in actual lived-in authenticity that makes everything that happens, no matter how odd, ring true. This is the kind of whimsical imbroglio that only gets better as it goes along, and by the time the filmmakers reach their ethereal conclusion it almost doesn't matter that the last third makes little to no sense whatsoever.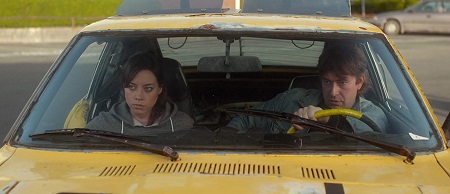 It's a great deal of fun watching how all the various pieces fit together. The subplot concerning Jeff and Liz doesn't seem to serve any sort of purpose and for a great deal of the film's running time I was starting to wonder why Connolly bothered to come up with it. But as things progress this little side drama comes into increasing focus, and by the time the climax rolls around I was awestruck just how neatly what was happening between the two mattered to the greater story. Yet it is Duplass and especially Plaza who are this drama's heart and soul. Watching them bond, seeing them size one another up as they make their way to a place of trust and commitment, it all adds up to something magical, the pair achieving a melodious symmetry that's nothing less than sublime.
A cynical person can obviously make a lot out of the way the film comes to its conclusion. Yet I can't imagine Safety Not Guaranteed going any other place than the strange, eerily beguiling realm it transported me to. Connolly proves himself to be an imaginative writer of consequence, while at the same time Trevorrow shows directorial chops far more seasoned than this project's meager budget and independent pedigree would initially lead one to believe. They've crafted a superb flight of fancy I didn't want to end, this intimately powerful journey through time and space an abnormal marvel that's as human as it is spectacular.
Film Rating: 3½ (out of 4)
Additional Link: