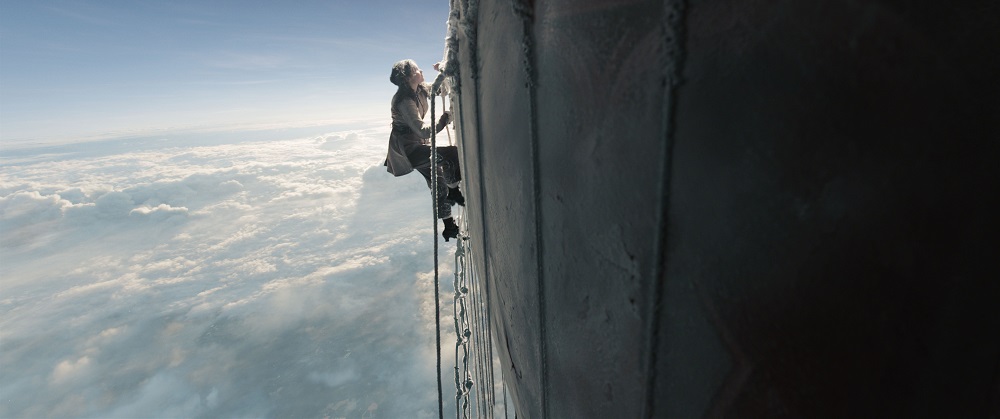 Visually Thrilling Aeronauts Soars into the Air
It is 1862. Much to the snickering disbelief of his peers in the British scientific community, budding meteorologist James Glaisher (Eddie Redmayne) believes he can analyze the atmosphere which will potentially lead to his ability to predict the weather. He teams up with expert balloonist, otherwise knows as an "aeronaut," Amelia Wren (Felicity Jones) to attempt an aerial voyage unlike any ever attempted before.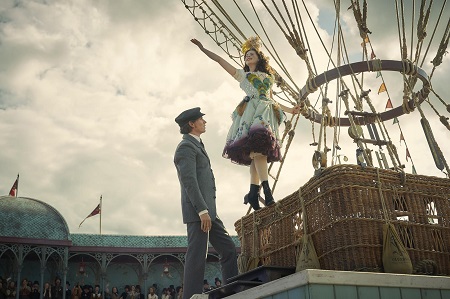 While she tries to ascend to a new world balloon height record, James will use his instruments to analyze the Earth's atmosphere. But this adventure isn't without its risks, and Amelia isn't certain her financier and amateur co-pilot is going to be capable of dealing with them, ballooning to the heights they are attempting nothing short of lethal to even the most experienced of pilots.
Very loosely inspired by an actual historical ascent into the upper atmosphere, director Tom Harper's (Wild Rose) visually audacious The Aeronauts is frequently a masterfully thrilling drama that held me in hypnotic rapture. Filmed to be showcased in IMAX, the aerial sequences of this motion picture are awe-inspiring. Mixing stunning effects, practical stunt work and an imaginative array of visual ingenuity, whenever Harper focuses on Amelia's and James' ascension above the clouds the film is an eye-popping miracle, the breathtaking spectacle of it all glorious.
It's down on the ground where the picture struggles to find its footing. Not that the story the director and fellow writer Jack Thorne (Wonder) have devised is anything to scoff at. It's perfectly serviceable, Amelia wrestling with her fears to balloon again courtesy of a recent catastrophic tragedy and James enduring the ridicule of the London scientific community for his belief he can study the weather. The issue is that there's no heat to these melodramatic shenanigans, the beguiling complexity that could have allowed them to resonate in a manner that might have emotionally mattered sadly absent. It all feels like standard, well-produced British television, and while there's nothing wrong with that all of these moments still come off as tiredly humdrum when compared to the 40 or so minutes that happen with Amelia and James inside the balloon traveling to heights above 36,000 feet.
The game supporting cast does give it their best effort, Tom Courtenay as James' elderly father Arthur (who just so happens to be suffering from the early stages of dementia) and Phoebe Fox as Amelia's overly-protective sister Antonia notable standouts. There's also a nice performance turned in by Yesterday star Himesh Patel as James' supportive scientific partner John Trew. Unfortunately, the film seems to forget about him far too often for the character to make a more lasting impression. I often found myself surprised whenever the story reintroduced him almost as if I'd forgotten Patel was part of the cast, and I can't help but wonder if a handful of additional scenes concerning the character might have been left on the cutting room floor.
On the plus side Jones is extraordinary. This is another exceptional performance from the young actress, and while I wouldn't say it's her best work the Academy Award-nominee's turn is still strong enough that if anyone wanted to mention it in the same breath as her roles in The Theory of Everything (where she previously costarred with Redmayne), Like Crazy or On the Basis of Sex I certainly wouldn't criticize them for doing so. Jones brings a fiercely determined depth to Amelia, the little hesitations and cracks in her façade that she allows to breakthrough into the open catching me more often than not entirely off-guard. It's a beautiful performance, especially during the sequences without dialogue, the actress bringing an aggressive physicality to the role that feels almost effortless.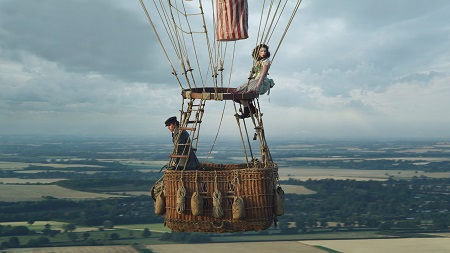 Redmayne is also quite good, but he doesn't have near as much to do as his costar does. Still, he once against shows superb chemistry with Jones, while a seemingly minor moment between the actor and Courtenay right before James takes off on his trip with Amelia drips with an introspective sensitivity that brought tears to my eyes. Mostly, though, he's in full fussy flibbertigibbet mode reminiscent of his turns in films like Fantastic Beasts and Where to Find Them and My Week with Marilyn, and while that's fine that also means he's hardly breaking a sweat as far as his portrayal of this particular character is concerned.
Ultimately it is the aforementioned aerial sequences that allows The Aeronauts to soar. Harper pulls out all the stops, and the higher Amelia and James fly the greater the danger they end up finding themselves forced to face. By the time out headstrong, unstoppable pilot is forced to ascend to the top of the balloon for reasons left unrevealed it's safe to say my gut had already dropped to the floor and my throat was gasping for air. Harper, his team of visual effects tacticians and cinematographer George Steel (Robin Hood) craft a viscerally gripping spectacle that's unlike anything else I've seen this year. It's a one-of-a-kind achievement, and for that reason alone here's hoping audiences go give it a look.
– Review reprinted courtesy of the SGN in Seattle
Film Rating: 3 (out of 4)