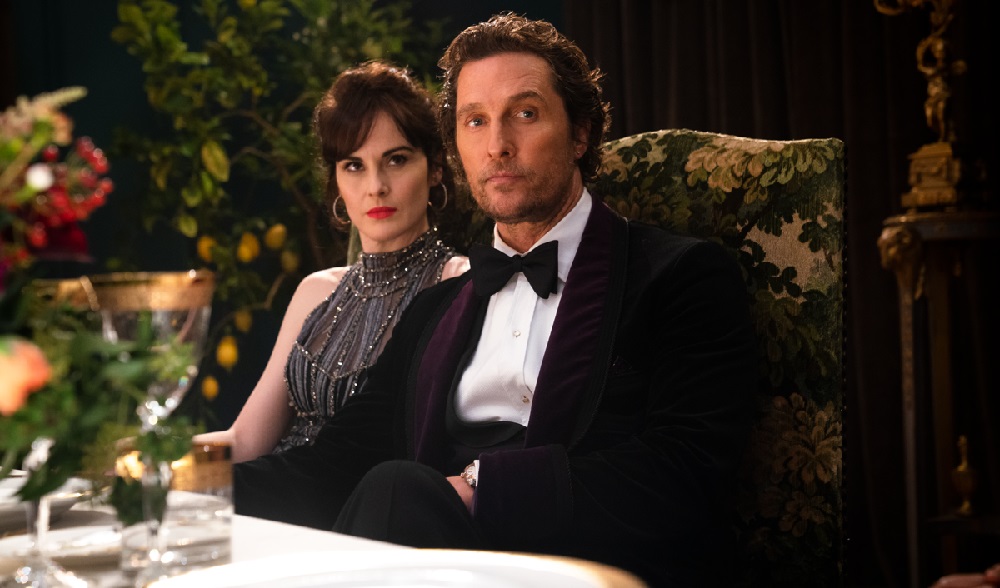 Inventively Vulgar Gentlemen a Violently Well-Dressed Hit
The Gentlemen is a journey back to the foul-mouthed criminal underworld prowling British streets for writer/director Guy Ritchie. It is an episodic, all-star mystery overflowing in double, triple and quadruple-crosses that's in the same vein as the filmmaker's early audience favorites Lock, Stock and Two Smoking Barrels and Snatch. The film is an aggressively messy comedic explosion that's never as clever as I kind of think Ritchie feels it is, yet things remain just crafty enough to stay agreeably entertaining first frame to last.
There's a lot going on from a story perspective, but ultimately it boils down to some fairly easy to follow basics. Londoner Mickey Pearson (Matthew McConaughey) wants to sell his secretive and lucrative marijuana empire to retire and spend more time with his wife Rosalind (Michelle Dockery). Wealthy businessman Matthew (Jeremy Strong) is interested in ponying up the $400-million to buy this empire up, while rivals led by triad lieutenant Dry Eye (Henry Golding) want a piece of the action as well. Meanwhile, wily private investigator Fletcher (Hugh Grant) believes he's discovered a lethal hole in Pearson's plans, telling his story to the powerful drug lord's closest confidant Ray (Charlie Hunnam) in hopes of a massive payday that will ensure his silence.
That's only the start of all the madness. Soon there are boxing club youngsters shooting videos of themselves getting into brawls and unknowingly stealing millions in Pearson's product, a recalcitrant Colin Farrell as their acid-tongued coach doing whatever he can to ensure "his boys" don't end up dead, a heroin-addicted wannabe pop starlet who is returned to her worried Lord and Lady bourgeois parents with nothing more than a shrug of resigned indifference and a Russian stoner who inexplicably ends up in Ray's meat freezer after he takes an impromptu skydive over the balcony of rundown tenement apartment building. At the center of it all is Fletcher, trying to stay one step ahead of everyone as he compiles a dossier on all of this drama's players.
It's all unsurprisingly vulgar and violent, and it's unlikely Ritchie will be winning over any new fans. At the same time those that adored his aforementioned early works will be delighted by what they'll likely view as a return to form after Aladdin and King Arthur: Legend of the Sword. It's as homoerotic as anything the director has ever made and features a number of gags that dangerously straddle the line between satirizing racist and sexist stereotypes and tropes and impertinently embracing them at the same time. The film is also eccentrically plotted and presented via the point-of-view of an unreliable narrator giving events a razor-sharp uncertainty that kept me on my toes.
But the cast is stellar, and that includes the bigger names like McConaughey, Farrell, Golding, Hunnam, Dockery and Grant, to relative newcomers like Bugzy Malone. Ritchie uses his actors with vicious cunning, allowing all of them little delectable moments to call their own and almost all of which help flesh out their various characters in any number of curiously creative ways. They give themselves over to the material completely and as such their performances have an electrifying exuberance that feels organically authentic, making even the more questionably risible beats come across from a place of credible authenticity that's sensational.
Not that there aren't issues. The material blatantly flirts with offensiveness. You could hear the air suck out of the room when Dry Eye is introduced, the obscene way in which Fletcher initially describes the gangster nothing short of odious. But there are multiple twists that happen less than a second after this noxious jolt of tastelessness, ones that tell the audience a great deal about who Fletcher is and how untrustworthy he is as a narrator. It also allows Golding the opportunity to flip the script on its head as to how he will portray Dry Eye, subverting expectation and convention as he does so, giving the comedy an extra layer of satiric fastidiousness that's kind of marvelous.
In regards to Fletcher, it must be said that Grant is magnificent as the oily, acid-tongued P.I. I spent all of 2018 championing the actor's superb work in Paddington 2, fighting tooth and nail for him to follow up his BAFTA Best Supporting Actor nomination for his villainous turn with an Oscar nom as well. That sadly didn't happen. Nevertheless, I feel like I'm going to be doing much the same in 2020. Grant once again is stunning in a supporting role, his twisty grandeur as he spins his verbal web extraordinary. This performance ranks as one of the best of the actor's career, and while this isn't the type of film that typically garners awards talk that doesn't mean I'm going to be any less vociferous advocating for Grant for the remainder of the year.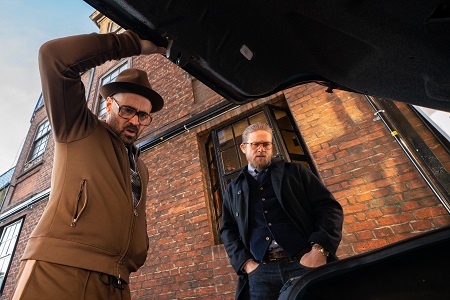 There is a moment of sexual violence near the end that didn't sit well with me at all. While brief, and while it doesn't go nearly as far as it could have, it still feels more odious and ill-conceived than any other button-pushing element of the motion picture. It also comes across as grotesquely out of character for the primary players involved. It doesn't work, turning one individual into a prop to give a male character additional agency and the other into a cringe-worthy stereotype that doesn't fit anything we've learned and discovered about them up to that point.
Thankfully The Gentlemen quickly rebounds from this moment. It races towards an inventive conclusion that brought a smile to my face and sent me out of the theatre with a skip in my step. Ritchie returns to his Brit crime caper roots with thrilling aplomb. His latest is funny and exciting, featuring crackerjack performances across the board. Even its more abhorrent elements don't stick in my craw near as much as kind of feel they should have, the enthusiastic lunacy of what the director has delivered worth the price of a matinee ticket all by itself.
Film Rating: 3 (out of 4)