Sorrow and Joy Collide in Dramatically Introspective Honey Boy
When Hollywood heartthrob and former child actor Otis (Lucas Hedges) is sent to court-ordered rehab after a horrific accident, he is tasked by his psychologist Dr. Moreno (Laura San Giacomo) to write a journal reflecting on his life. Memories of his stern, alcoholic father James Lort (Shia LaBeouf) come flooding back, as do remembrances of their days together when he was a 12-year-old (Noah Jupe) on the verge of stardom paying his dad to be his primary guardian. It's a lot to deal with and Otis isn't certain he can handle it all clean, these oftentimes painful recollections forcing him to wake in the middle of the night covered in sweat as if he's been jolted out of a deep sleep by a terrifying nightmare.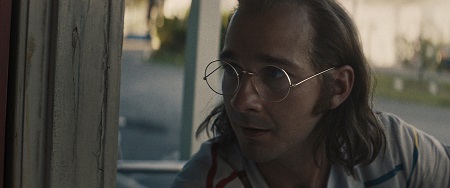 Loosely based on his own life as a child star for the Disney Channel before segueing into roles in major Hollywood blockbusters like Disturbia, Eagle Eye, Indiana Jones and the Kingdom of the Crystal Skull and the first three films in the Transformers franchise, LaBeouf's intimately thought-provoking and hard-hitting screenplay for award-winning documentarian Alma Har'el's (Bombay Beach) feature-length debut Honey Boy is a thing of beauty. It is a complex nonlinear trek into the highs, lows and uncomforting in-betweens of a life lived on the fringes of the Los Angeles spotlight, this father-son story a vicious exposé of lost dreams, heightened expectations, overpowering addiction and unselfish love that took me by surprise.
Not to say the story is entirely fresh or original. Even though LaBeouf was inspired by his relationship with his father, this story of a young talent's difficult rise and tragic fall isn't that far removed from any number of similar tales we've seen since the birth of cinema over a 100 years ago. While the settings and circumstances change, while technology becomes more advanced and the vices of choice move beyond alcohol to newfangled, highly-addictive narcotics cooked up in a chemistry lab, the basics remain the same. Youngster has talent, gets noticed, becomes a star, uses recreational drugs and comes perilously close to seeing the career they've worked so hard to achieve flushed down the drain. Cut. Print. Scene.
LaBeouf adds the element of the iron-fisted stage father, Honey Boy born from the give-and-take relationship Otis and James have developed while the former strives to achieve his dreams and the latter relives his own failed ones through the eyes of his overachieving son. This gives the story an extra layer of urgent immediacy I found fascinating, Har'el examining the pair's interactions with an insightful attention to detail that burrows ever-deeper into what the two of them are thinking at any given time. It's like watching The Florida Project, Mommie Dearest, Clean and Sober, American Honey (which featured LaBeouf in a ley supporting role) and The 400 Blows all smooshed together into a single, gut-wrenching narrative, the director handling the story's various elements with striking elasticity.
LaBeouf, already haven given one of the better performances of his career (and of 2019) just a couple months ago in name The Peanut Butter Falcon, does it again here. His James is as brutal as he is uncompromising. Yet there is also a continual glint resting in the back of his eyes hinting at the promise of a what tomorrow might bring and the hope that better times are ahead. I could really feel the love this father has for his son even if he rarely knows the best way to show it, making the pain he experiences knowing that at some point their working relationship will have to end and Otis will move on into the teenager and adult years of his life without him all the more painful. There is a haunting eloquence to LaBeouf's performance that angered me beyond my internal boiling point yet also left me weeping in delicate sadness for all it is this man has attempted and failed to be. It's a bravura turn, the actor deserving of every bit of praise he's received as this film has played the festival circuit since premiering at Sundance way back in January.
Jupe is his co-star's equal. The maturity he showcases as Otis becomes the adult in the relationship with his father is gloriously. Yet the youngster also has a brittleness about him that reminded me that, for all is huffing and puffing, this was still a child unsure of how he is supposed to comfortably exist inside a very adult world he has no business being a part of. Jupe traverses though an emotional minefield as if he were walking on tippy toes and does so with a raw, unvarnished ease that's sensational, the chemistry he shares with LaBeouf nothing less than staggering.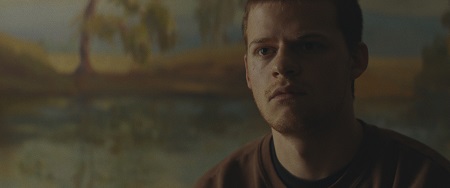 The passages dealing with Hedges' 22-year-old incarnation of Otis aren't as effective, and as great as the actor might be (and he's very, very good) after Manchester by the Sea, Ben is Back and Boy Erased it's getting to the point I'm starting to feel he could play a character like this one in his sleep if he wanted to. But his typecasting aside these sections of the story are also the ones that feel the most routine, and while Har'el adds a handful of documentary-like dynamics there is still something oddly perfunctory about them I didn't wholly respond to.
Not that I care. Thanks to Har'el's assertively meditative direction and LaBeouf's profound, emotionally-modulated script Honey Boy is a dramatic tour de force that left me stranded between sensations of elation and sadness for the majority of its methodically paced 94 minutes. Memories of youth aren't always happy, but that doesn't mean sorrow and joy still can't coexist, and when addiction grabs the user by the throat having the guts to both give and to ask for forgiveness is sometimes the only way to leave the darkness behind and walk back into the light refreshed.
Film Rating: 3 (out of 4)