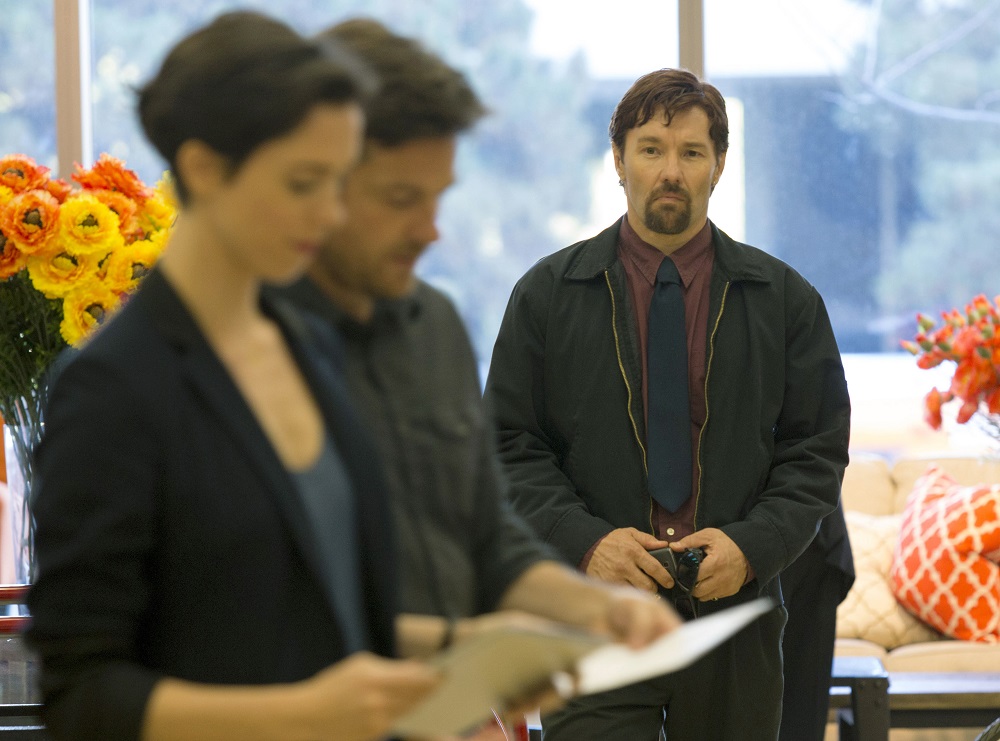 Edgerton's Gift an Unsettling Psychological Stunner
How much do we change from who we were in our youth? How do our collective life experiences affect us? How do we atone for our mistakes? Can we? Are the scars left by bullying and abuse sometimes too expansive and deep to ever get past? How well do we know the ones we love? Is their tenderness and care only a mask concealing their own insecurities? And, ultimately, when is a person just plain bad, the good they maybe do in one way or another during their lifetimes irreversibly colored by their selfish commitment to greed, avarice and pride coupled with a belief they're just plain better than everyone else they cross paths with?
Celebrated actor Joel Edgerton is no stranger to working behind the camera. Working with his brother Nash Edgerton, the pair unleashed the crafty Australian noir The Square on an unsuspecting populace back in 2008. He wrote the screenplay for the 2013 thriller Felony and David Michôd's masterful The Rover was born from one of his stories. He's had a hand in a number of award-winning short films (not the least of which is the ingenious Spider, directed by his brother Nash who co-wrote alongside Michôd), proving himself to be a committed craftsman worthy of all kinds of respect.
The Gift, a mesmerizing three-person relationship thriller set in a bleak, preternaturally sundrenched Los Angeles, is Edgerton's first feature-length trip behind the camera as director. Writing the script as well, he stars as Gordon, 'Gordo' to his friends, a somewhat socially awkward loner who is excited to cross paths with former High School classmate Simon (Jason Bateman) all these years later. The former Class President has returned to L.A. from Chicago with beautiful wife Robyn (Rebecca Hall) in tow, the seemingly happy couple harboring a heartbreaking psychological secret that's made this change of scenery both cathartic and a necessity.
Gordo goes out of his way to ingratiate himself with the couple, showering them with gifts including an expensive bottle of wine and a pond full of exotic fish. But something just feels off to Simon, and when his attempts to keep his old classmate at arm's length fail  he decides it's time to take more drastic measures to end this relationship before it's too late. While Robyn isn't initially as worried as her husband appears to be, after discovering Gordo has trapped himself inside a handful of falsehoods she's willing to concede ending things might in fact actually be for the best, letting the budding friendship die even though part of her doesn't want to.
If you think you know where The Gift is headed from there you'd be dead wrong, Edgerton taking things into far more disturbing and devastatingly insidious psychological terrain than anything I could have anticipated beforehand. Much like Roman Polanski's Repulsion, the emotional traumas felt and endured begin to take an unimaginable toll upon those bothered by them. Like Claude Chabrol's La cérémonie or L'Enfer benign do-gooders don't always turn out to be who you think they are, seemingly caring relationships slowly morphing into sexually-heated, murderously treacherous affairs that can destroy even the purest of hearts. It's a balancing act unlike anything else brought to the screen so far this year, Edgerton devilishly toying with the viewer in ways that get more aggressively alarming as things explosively progress.
All three actors are superb. Bateman's penchant for playing good-hearted, sarcastically jovial jerks has never been used better, the actor displaying a level of depth and maturity he seldom has before. Edgerton is positively heartbreaking, his reactions to what is being said about him and why having a pitiable weight that's gloomily palpable. As for Hall, she's magnificent, playing scenes in ways that amaze never going through the motions, always digging deeper, getting the to the very heart of the matter sending cold, all-encompassing shivers down my spine time and time again in the process.
By the time it reaches its knockout of a conclusion, the film burrows its way into the gut to the point digging it out after the screen fades to black and the curtain closes is nigh impossible. Featuring sensational cinematography by Eduard Grau (A Single Man), edited within an inch of its seductively unnerving life by Luke Doolan (Animal Kingdom) and showcasing a score by Danny Bensi and Saunder Jurriaans (Enemy) that's right up there with It Follows, Ex Machina, Inside Out, Mad Max: Fury Road and Backcountry as one of 2015's absolute best, Edgerton has knocked this steely, unsettlingly fascinating tale right out of the park. This film isn't just great, it's close to perfect, making The Gift a beautifully disquieting present that should be opened at one's earliest convenience.
Review reprinted courtesy of the SGN in Seattle
Film Rating: 4 (out of 4)