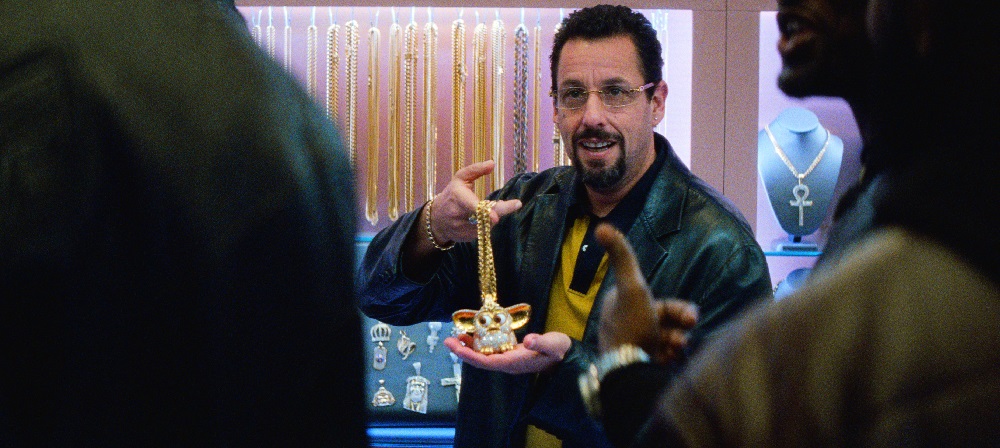 Emotionally Intense Sandler Gives Viscerally Urgent Uncut Gems Its Shine
There is nothing polite about brothers Benny Safdie and Josh Safdie's newest hyper-adrenalized ticking clock drama Uncut Gems. This blistering New York thriller is designed to put the viewer on edge. It is constantly moving, the story's unctuous urgency a primitive maelstrom of morally dubious human fallacy the consequences of which are a thundering avalanche of inescapable tragedy that will bury anyone unlucky enough to be in its path.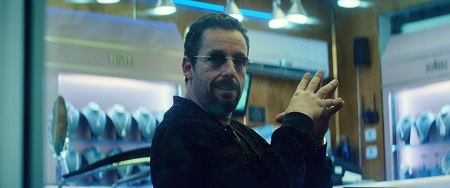 At the center of this chaos is a mesmerizing Adam Sandler, the actor delivering his best, most invigorating and emotionally astute performance in years. As terrific as he was in Noah Baumbach's The Meyerowitz Stories or Judd Apatow's Funny People, I honestly feel like one has to go all the way back to Paul Thomas Anderson's 2002 masterwork Punch-Drunk Love to find the actor this level of engaged. Sandler is a bundle of hyperactive intensity as New York jewel merchant Howard Ratner, his edgy manic intensity a constant sprint along a razor-thin tightrope where the slightest stumble will have catastrophic consequences the aftereffects of which are almost unimaginable.
Howard Ratner's life is a constant juggling act. To his wife Dinah (Idina Menzel) and their children he's a successful jewel merchant. To brother-in-law Arno (Eric Bogosian) he's a fast-talking charlatan who owes him a bundle of money he's angrily starting to think will never be paid back. To various bookies and other jewelers in New York City he's a gambling junky with a serious problem, many of them looking at the man sideways whenever he places a bet or comes calling looking for some quick cash. As for mistress (and employee) Julia (Julia Fox), she feels like Howard is all that and a diamond-encrusted bag of chips, the much younger woman head-over-heels for the guy.
These are the background elements that are an integral facet of the story the Safdie brothers are telling. The majority of their morality play revolves around Howard's attempts to make the biggest sale of his career of a valuable blood opal that he has scheduled for auction. To do this he must avoid Arno's violent thugs attempting to get the money he owes while also trying to stop Dinah from discovering just how much in debt he is as well as continue to keep his relationship with Julia a secret. Added to the mix is Boston Celtic basketball superstar Kevin Garnett who comes to believe Howard's opal is his lucky charm in a heated playoff matchup with the Philadelphia 76ers, his lust for the jewel nothing short of massive.
It all plays out like a hyperactive cross between a hard-boiled John Cassavetes melodrama like Gloria or The Killing of a Chinese Bookie and a character-driven Sidney Lumet thriller like Q&A or Before the Devil Knows You're Dead. The film is also more of a deft, passionately dynamic homage to the 1970s, early '80s works of Martin Scorsese than Todd Phillips Joker even slightly was, Uncut Gems capturing the same urgent agency of films like Mean Streets, Taxi Driver and After Hours with viscerally audacious ease. The Safdies, after already delivering a pair of unforgettable dramatic barnburners with 2014's Heaven Knows What and 2017's Good Times, have outdone themselves with this effort, and as difficult as their latest might be to watch the fact I can't stop thinking about it over a month later speaks volumes as far as I am concerned.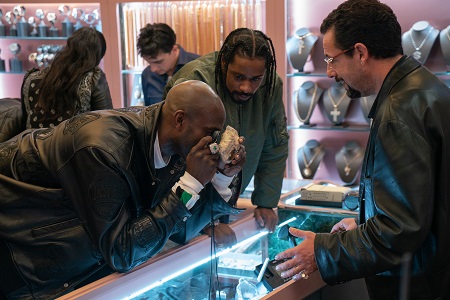 Even if the viewer doesn't end up liking the way the film transforms their innards into a prickly, unwieldy tangle of painfully acidic knots, it's hard not to admit it's still a technical marvel worthy of all the acclaim that's already been thrown its way. The combination of Darius Khondji's (The Lost City of Z) cinematography, Ronald Bronstein's (Good Time)and Benny Safdie's editing, Miyako Bellizzi's (Patti Cake$) costumes and Daniel Lopatin's (The Bling Ring) score is a collision of anarchy and tranquility where emotional yin and yang are always in danger of being thrown catastrophically out of whack. Each element works together with forcefully truculent chemistry, the Safdies balancing all of the elements augmenting their production with confident skill and pinpoint precision.
But this is Sandler's show. For a movie that assaulted my senses and made me feel like I was sitting on a time bomb slowly ticking down to explosion, the actor's magnificent performance is the singular element that ultimately won me over. He is the heart, soul and morally-challenged engine that drives Uncut Gems forward towards its suitably sudden conclusion, Sandler's best performance in over a decade, maybe ever, a magnetic triumph that needs to be seen to be believed.
Film Rating: 3½ (out of 4)