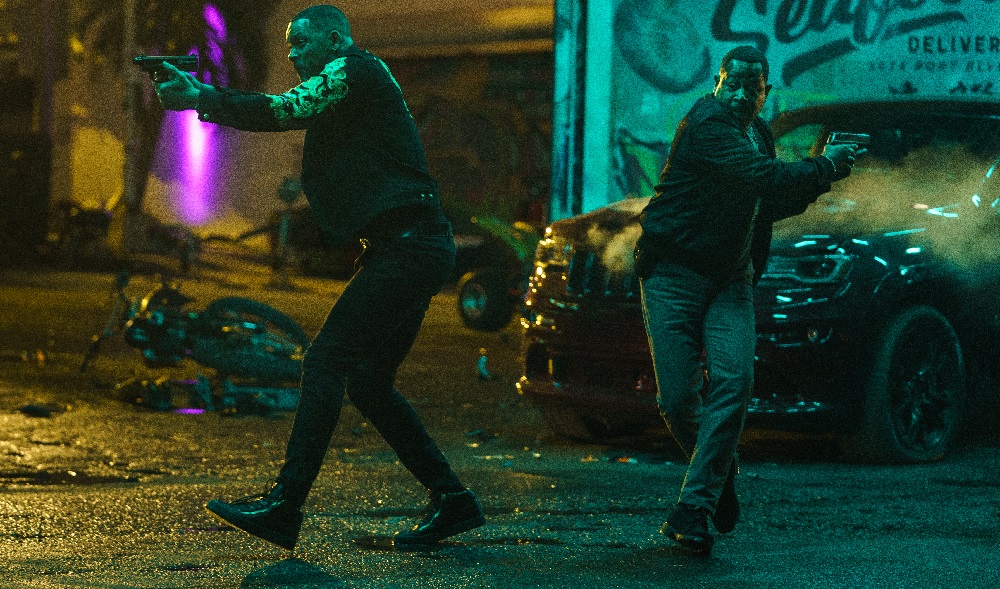 Smith and Lawrence Recapture Their Bad Boys Magic
On the 25th anniversary of their partnership, celebrated Miami Detectives Mike Lowrey (Will Smith) and Marcus Burnett (Martin Lawrence) are at a crossroads. While Mike sees no need to slow down or change his ways, with the recent birth of his first grandchild Marcus is ready to retire. Just as their playful conversation as to whether or not they'll continue to work together reaches its climax, an unimaginable act of violence changes everything. Mike is gunned down in the middle of the street by a masked assailant riding a souped-up black motorcycle, Marcus left cradling his best friend and partner's body in hopes paramedics will arrive in time to save his life.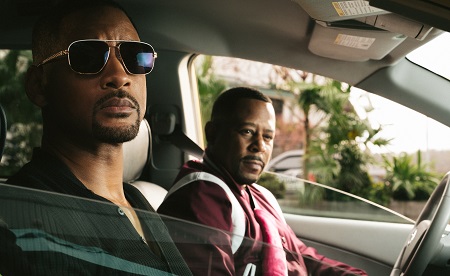 Fast-forward six months. Mike is healed but he's also angry. For the first time he feels mortal, and because of that the veteran detective is determined to find out who shot him and why. But during his friend's recovery Marcus made good on his promise to retire, and now he's sitting at home waiting for his paperwork that makes him a civilian to be stamped as approved. This leaves Mike to work with a new team codenamed "Ammo," a group of young-gun detectives supervised by a former flame (Paola Nuñez) who vocally disagrees when the grizzled Captain Howard (Joe Pantoliano) assigns him to her unit as an observer.
It's hard to believe the original Bad Boys came out back in 1995. The movie that helped make Smith an international superstar, made Lawrence a bankable big screen talent and convinced studio heads Michael Bay was a talent to give $100-million-plus budgets to, the relatively straightforward, hyperviolent action-comedy almost looks quaint by today's standards. The film proved to be a minor box office hit and became even more of a sensation on home video, and it was only a matter of time before Mike Lowrey and Marcus Burnett returned for a second adventure.
Bad Boys II hit screens in the summer of 2003. By that point Smith, Lawrence and Bay were hot commodities at the height of their respective powers. This sequel was a bloated big-budget extravaganza that overflowed in massive action set pieces and gigantic explosions. It also reveled in forms of sexism, misogyny, homophobia and xenophobia that were disgusting by the standards of the early 2000s and all of which look even more repulsive today. Even with one of the more masterfully executed car chases in modern memory this was still an abhorrent R-rated mediocrity that I loathed with every fiber of my being.
My personal feelings aside, the fact it's taken 17 years for Bad Boys for Life to see a release is something of a moderate shock. The second film was a sizable hit, after all, and there's been talk of a third chapter in the franchise for what feels like over a decade now. Nevertheless, with new directors Adil El Arbi and Bilall Fallah – billed as Adil & Bilall – taking over for Bay (who does have a fairly amusing cameo), and with Smith and Lawrence both returning, this latest entry in the series has finally arrived. Even more astonishing? It was worth the wait.
Taking pointers from the Fast and the Furious franchise, the screenplay from Chris Bremner, Peter Craig (12 Strong) and Joe Carnahan (The Grey), spun from an original story by Craig and Carnahan, opens up Mike and Marcus' world by giving them a multicultural team of youngsters with their own unique skills to mentor and lead. Like Bad Boys II it also takes the narrative international, a good third of the film heading across the border into Mexico.
But as obnoxiously convoluted as things might get (Sony originally flirted with filming two Bad Boys sequels back-to-back and it shows), there is an intense focus on Mike and Marcus' relationship that reminded me a little of Lethal Weapon 2. Their familial friendship is real. It is born from a place of lived-in authenticity that is wholly genuine. Even though it's been almost two decades since we've seen them together it is still apparent that the strength of the two detectives' relationship has only intensified over the years. Better, Smith and Lawrence don't appear to have missed a beat, the zippy intimate agency of their chemistry every bit as strong as it has ever been.
This is still a giant, unrepentantly vulgar cartoon. It also crams a freakish amount of plot into an otherwise lean, mean barely two-hour running time. Because of this, the villains (a devilishly carnivorous Kate del Castillo and an athletically smoldering newcomer Jacob Scipio) don't get to do a heck of a lot and never make the lasting impression the intricate interior dynamics of the central story require. As for the Ammo team, while Alexander Ludwig, Vanessa Hudgens and Charles Melton give it their best shot, the movie seldom knows how to utilize them, none of the trio busting through as fully as I kept hoping they were going to.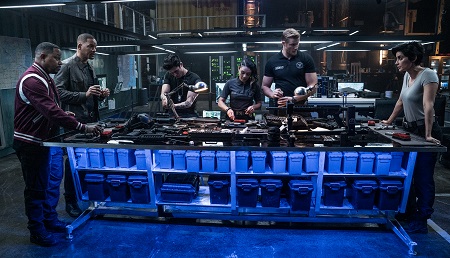 Thankfully Adil & Bilall direct with a clean, no-nonsense urgency that's great. The two large-scale action sequences are kind of terrific, cinematographer Robrecht Heyvaert's (Revenge) visual compositions having a visceral clarity that's invigorating. Lorne Balfe's (The Florida Project) sizzling score, which happily incorporates Mark Mancina's memorable theme from the original Bad Boys, hits all the right notes, while editors Dan Lebental (Spider-Man: Far from Home) and Peter McNulty (The Master) have done a great job cutting things in a manner that doesn't feel overdone or excessively chaotic.
Most of all, though, it's just refreshing to see Smith and Lawrence back up on the screen playing off one another. As much as I despised the second film, I'd honestly forgotten just how naturalistic and strong their chemistry is. There is a reason the first Bad Boys helped make the both of them major stars, and that they recapture that magic 25 years later is nothing short of wonderful. Bad Boys for Life is an enjoyable action-comedy throwback that remembers to put its two main characters first and all of the adrenaline-fueled theatrics second. It's a heck of a lot of fun, and I'm as surprised as anyone by just how much I enjoyed watching it.
Film Rating: 3 (out of 4)