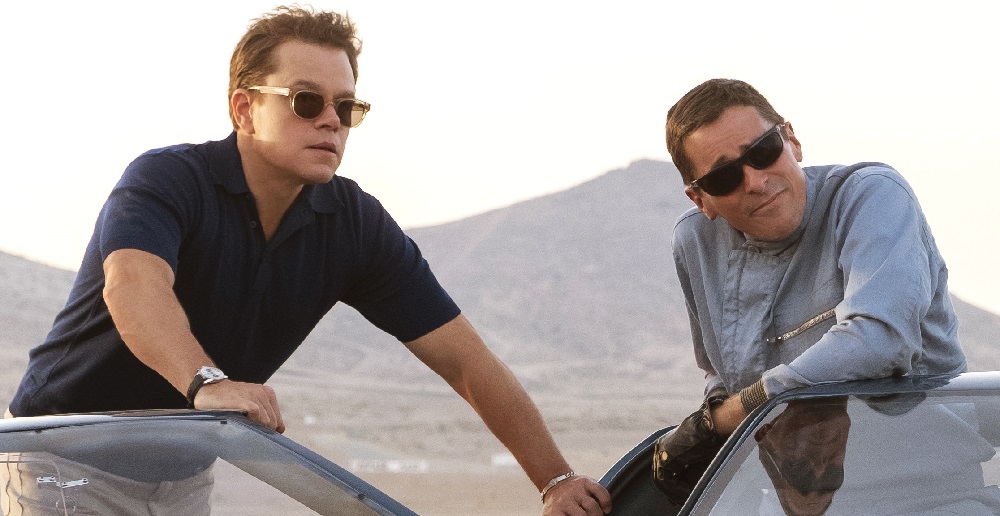 Thrilling Ford v Ferrari Revs Up Excitement
Sprinting across the screen like a blast of pure unfiltered adrenaline, director James Mangold's Ford v Ferrari is an outstanding historical character study overflowing in energy, excitement, drama, heartache, euphoria and unbridled suspense. It hits the track running from the dropping of the green flag and only accelerates from there. This is a masterful drama that features the best performances of Matt Damon's and Christian Bale's respective careers, the film a rip-roaring symphony of screeching tires, terrifying collisions, checkered flags and complex friendships that's nothing short of glorious.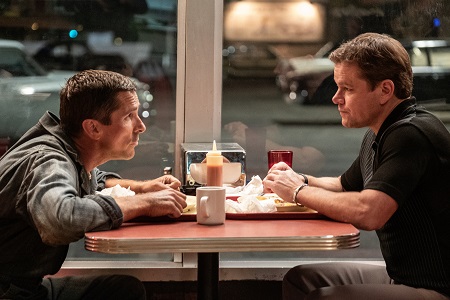 Even though my father is a pretty extraordinary mechanic I can't say I know a lot about cars. Even though he made his living fixing them up and making them purr as if brand new, I also admit that no one in my family spent a lot of time watching professional racing. All of this is my roundabout way of saying I knew little about custom car designer Carroll Shelby (Damon) and even less about renowned racer Ken Miles (Bale) before watching this movie. There's just never been a reason for these two to end up on my personal radar, and I can't say I've ever been bothered by having that hole in my sports trivia knowledge.
The great thing about what Mangold and screenwriters Jez Butterworth, John-Henry Butterworth (Edge of Tomorrow) and Jason Keller (Escape Plan) do is that they manage to make Ford v Ferrari a mesmerizing drama whether one knows a lick about the history of these two men or if, like me, they enter into the theatre clueless. They ground the two characters into their late 1960s California world with ease, utilizing the subtlest of brushstrokes to cement who Shelby and Miles are and why as a viewer I was going to find it entertaining to spend roughly 150 minutes watching them build and race a spiffy new sportscar.
Why was that? Their friendship mattered, that's why. It was hard. They faced numerous obstacles that led them to butt heads. They could yell at one another at the drop of the hat. Yet they were just as willing to stop everything and put it all on the line if the other needed them to, all of which makes a mid-story misstep by Shelby where he relents to the corporate powers that be all the more heartbreaking. But the competitive fire fueling both men cannot be contained, so watching them fail is every bit as captivating as seeing them succeed far beyond their wildest dreams. They are dreamers risking everything to achieve victory, and while their eventual triumph is never in doubt, watching them get there is every bit as exhilarating as ever could have hoped it was going to be.
With auto sales stagnant, Lee Iacocca (Jon Bernthal) presents his boss Henry Ford II (Tracy Letts) with a wild plan to make Ford cars and trucks cool again by having their company purchase Ferrari and then build a race car that could win at the fabled 24 Hours of Le Mans. But instead of letting the American auto giant buy his company Enzo Ferrari (Remo Girone) instead ridicules and insults Ford, vowing he'd never allow someone who makes "ugly cars" be a part of Ferrari.
Unsurprisingly Ford takes this personally, vowing to go to war with Ferrari and to beat them at their own game by winning Le Mans. Enter Carroll Shelby. The last American to win Le Mans, Iacocca convinces Shelby to help Ford build and design a car that will put Ferrari in its rearview mirror. He in turn brings vaunted, headstrong professional driver Ken Miles onto their team, utilizing his knowledge and expertise behind the wheel to help them put the finishing touches on the car that will be known all around the world as the Ford GT40. Miles isn't easy to get along with and isn't a corporate stooge, which puts him at odds with Ford Motor Co. executive Leo Beebe (Josh Lucas) who for some strange reason makes it his mission to see that the driver never gets behind the wheel at Le Mans.
Beebe's obviously unsuccessful, Mangold's movie building up to the 1966 Le Mans where Shelby, Miles and Ford Motor Co. will make racing history. These aren't spoilers, they're historical facts, and it isn't like a major Hollywood studio would greenlight a $100-million production had they felt audiences weren't going to be madly cheering come the story's climax. Yet the filmmaker eschews most of the inherent clichés of the inspirational sports melodrama mainly be grounding things in a gritty, hard-edged reality that's captivatingly authentic. Shelby and Miles breathe gas fumes like its oxygen and swim in motor oil and grease as if they were six-year-olds jumping into a swimming pool. This is their reality, their world, and because of that I found watching their friendship go through so many intense permutations to be almost as thrilling as the three primary races staged in the film proved to be.
But only almost. Mangold and his crackerjack team of stunt performers and effects wizards have gone above and beyond in their staging of the race, testing and training sequences in the film. As spellbinding as Ron Howard's Rush was, Ford v Ferrari leaves it in the dust. Not since John Frankenheimer revved up his engines to bring 1966's Grand Prix to life have I watched a motion picture that made me feel as if I was sitting in the seat right next to the driver. I was continually gobsmacked as Miles navigated all of the various tracks all of which built up to his marathon brilliance at Le Mans. From the immersive sound design, to Phedon Papamichael's (Nebraska) splendid cinematography, to Michael McCusker (Walk the Line) and Andrew Buckland's (The Girl on the Train) dynamite editing, to Marco Beltrami (The Hurt Locker) and Buck Sanders' (Warm Bodies) virtuoso score, every element of this production is superb, all of which makes the finished product an eye-popping marvel I thoroughly enjoyed.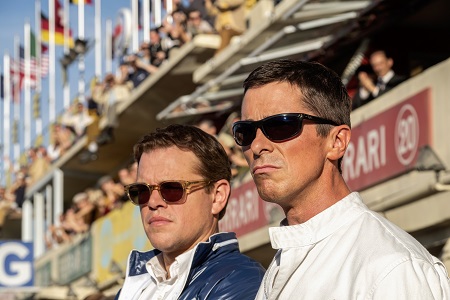 Bernthal doesn't get much to do as Iacocca, and other than a great scene inside Enzo Ferrari's Italian offices he doesn't make much of a lasting impression. Same goes for Caitriona Balfe as Ken Miles' wife Mollie. While at first it appears as if the movie is going to give her character substantively more to do than just sit at home and worry about her husband, about the halfway mark that's exactly what happens, and as great as Balfe initially is I couldn't help but wish Mangold did something less stereotypical with her. As for Lucas, his Leo Beebe is a smarmy corporate caricature that's so cartoonish it felt like he stepped in from a different, far less well-made motion picture, and whenever he was up on the screen I felt like his presence ground things to a frustrating halt.
Thankfully Damon and especially Bale kill it as Shelby and Miles. Both are so dialed in even though they're huge, instantly recognizable movie stars I still found they managed to disappear into the characters they were portraying. Mangold has them firing on all cylinders, each actor going for broke and mining fascinating emotional interiors I instantly responded to. They are nothing short of sensational, and if I had my say in the matter here's hoping Oscar voters nominate both men for Best Actor as Damon and Bale are equally deserving of the recognition. They are the engine that powers Ford v Ferrari to victory lane, and as magnificently made as this picture is, without them I'm not so certain turning the key on this film's ignition would be nearly as essential as it happily ends up proving to be.
Film Rating: 3½ (out of 4)