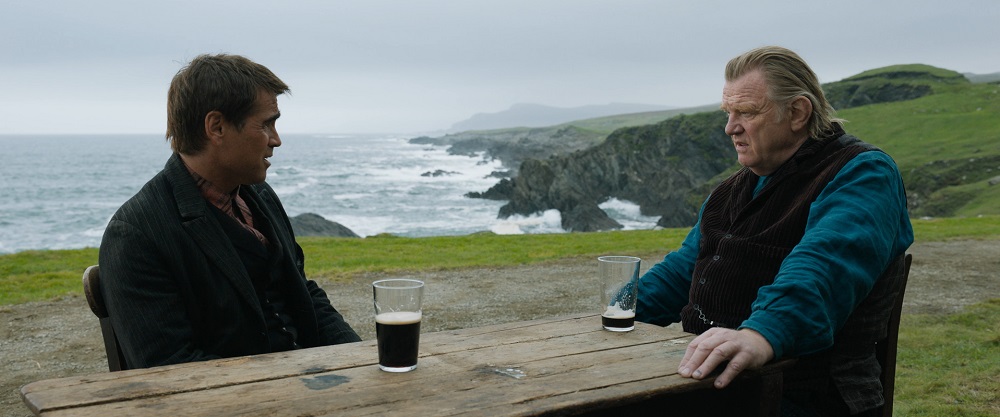 TOP TEN of 2022
1. The Banshees of Inisherin (D: Martin McDonagh)
Friendship doesn't last forever in writer-director Martin McDonagh's hysterically heartbreaking Irish tragedy. The setting may be the Irish Civil War of the early 1920s, but the themes and emotions remain universally relevant, while stars Colin Farrell, Brendan Gleeson, Kerry Condon, and Barry Keoghan turn in four of 2022's best performances.
2. The Eternal Daughter (D: Joanna Hogg)
Tilda Swinton does double duty as reserved filmmaker Julie Hart and her quietly introspective mother Rosalind, and the Academy Award-winner has never been better. Writer-director Joanna Hogg crafts a melancholy tale of introspection, memory, and family that lingers in the heart long after the film has come to an end.
3. Turning Red (D: Domee Shi)
Domee Shi's wondrous animated marvel is a celebration of friendship and family, all of it centered on a teenage girl going through an unexpected transformation when her hormones and emotions go into overdrive — she transforms into a giant red panda! An absolute joy from start to finish, Turning Red is one of Pixar's best.
4. Pearl (D: Ti West)
Ti West and star Mia Goth craft a prequel to their grindhouse throwback X and deliver a bloody delight that's both a celebration of classic Hollywood and a devastatingly shocking descent into psychologically fracturing terror. Goth gives a performance for the ages: her final monologue is an absolute barnburner that's out of this world.
5. We're All Going to the World's Fair (D: Jane Schoenbrun)
A primal creepypasta whose disquiet digs under the skin, filmmaker Jane Schoenbrun's masterful debut heads to the surreal corners of online discourse, clasps its cold, clammy hands on the viewer's jugular, and then refuses to let go. Newcomer Anna Cobb is magnificent. [Interview with writer-director Jane Schoenbrun]
6. Glass Onion (D: Rian Johnson)
Daniel Craig returns as eccentric detective Benoit Blanc for a new murder mystery, this one involving a group of "disruptors" led by charismatic billionaire tech mogul Miles Bron (Edward Norton). Funny, suspenseful, inventive, and intelligent, this crowd-pleasing, eat-the-rich cultural satire from Rian Johnson doesn't pull a single punch. Janelle Monáe gives an understated but tremendous supporting performance that, like almost everything else in this triumph, is far more than initially meets the eye.
7. All Quiet on the Western Front (D: Edward Berger)
This powerful new take on author Erich Maria Remarque's antiwar masterpiece is a hypnotic, gut-wrenching journey through no man's land that chilled me to the bone. Director Edward Berger's eye-popping WWI adaptation delivers shattering, character-driven mental anguish and unimaginable psychological trauma. The hellscape of war has seldom been depicted with such unrelenting clarity.
8. Three Thousand Years of Longing (D: George Miller)
Mad Max impresario George Miller's adaptation of author A.S. Byatt's 1994 short story "The Djinn in the Nightingale's Eye" is a dreamy, visually resplendent tale of romance, loss, and intimacy that confidently pulls at all the melodramatic heartstrings. Tilda Swinton and Idris Elba burn right through the screen.
9. Top Gun: Maverick (D: Joseph Kosinski)
Possibly the year's most inexplicably marvelous major Hollywood studio tentpole, director Joseph Kosinski and star Tom Cruise's legacy sequel to 1986's Top Gun is so stratospherically entertaining the film starts at Mach 10 and then refuses to slow down from there. While it's still a feature-length commercial for the US Navy, great is still great, and Top Gun: Maverick is as one-of-a-kind great as they come.
10. Bones and All (D: Luca Guadagnino)
Taylor Russell and Timothée Chalamet set the screen ablaze as two lost souls who search for a human connection and find it comfortably nestled in the icy warmth of one another's arms. The only problem? They happen to be cannibals. Luca Guadagnino's adaptation of Camille DeAngelis' novel is a perceptively complex examination of identity, gender, and sexuality all in revolt, an austere adventure and hauntingly personal road trip overflowing in gory twists and tear-jerking turns.
FAVORITE DOCUMENTARIES
All the Beauty and the Bloodshed (D: Laura Poitras), The Automat (D: Lisa Hurwitz), Bad Axe (D: David Siev), Cow (D: Andrea Arnold), Fire of Love (D: Sara Dosa), Jackass Forever (D: Jeff Tremaine), Selena Gomez: My Mind & Me (D: Alek Keshishian), Sweetheart Deal (D: Gabriel Miller, Elisa Levine)
– Portions of this feature reprinted courtesy of the SGN in Seattle