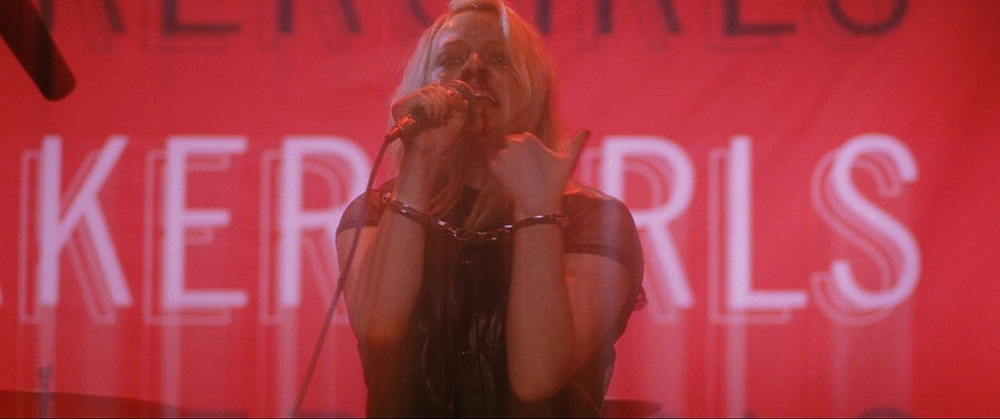 TOP TEN
1. Her Smell (D: Alex Ross Perry)
Elisabeth Moss gives a tour de force performance that sadly precious few took the time to see in writer/director Alex Ross Perry's four-act chronicling of a self-destructive punk rock star slowly attempting to put her life back together after publicly hitting rock bottom. Perry takes a litany of genre tropes and melodramatic contrivances and turns them on their head while giving Moss the freedom to dominate the screen as she emotionally combusts in ways that are a continual surprise. This is the best movie of 2019.
2. Booksmart (D: Olivia Wilde)
Freewheeling, smart and rambunctious as heck, Olivia Wilde's gloriously personal high school sex-positive graduation night comedy Booksmart is a raucous celebration of female friendships that overflows in hysterically ribald inventiveness. Beanie Feldstein and Kaitlyn Dever are delightful as best friends breaking out of the shells they've constructed for themselves over the years, while a goofily divine Billie Lourd is magnificent as an angelic free-spirited siren who slyly forces the two girls to see both themselves and their classmates in a different light.
3. The Nightingale (D: Jennifer Kent)
Jennifer Kent's blisteringly personal drama about abuse, racism and sexual violence in 1825 Tasmania is a shocking, one-of-a-kind journey into the heart of darkness that left me feeling battered and bruised by the time it came to its heart-stopping conclusion. Aisling Franciosi is astonishing as an Irish convict who goes on a journey to exact revenge against the soldier (Sam Clafin) who wronged her, and while the film is purposefully difficult to watch, this remains a violently horrifying spectacle I'll never forget.
4. Pain and Glory (D: Pedro Almodóvar)
Pedro Almodóvar's best film since 2011's The Skin I Live in is arguably the most personal of the acclaimed filmmaker's entire career. Featuring a stunning Antonio Banderas as a filmmaker dealing with the ghosts of the past, present and future as he assesses his life and career, the movie bends back and forth through time as it analyzes the ephemeral line that exists between art and artist. The last scene is a jaw-dropping stunner that made me look at every second of the running time which came before it in an entirely different light.
5. The Farewell (D: Lulu Wang)
It's difficult to envisage a more universally intimate familial melodrama than the one writer/director Lulu Wang composed for her feature-length debut. A movie that is a decided celebration of the filmmaker's Chinese heritage but also speaks to audiences around the world no matter what their background or cultural heritage, The Farewell is a moving marvel I didn't want to see come to an end. Awkafina has never been better, and newcomer Zhao Shuzhen shattered my heart into teeny-tiny itsy-bitsy little pieces with her subtly cathartic performance. [Interview with writer/director Lulu Wang]
6 . Doctor Sleep (D: Mike Flanagan)
Both an adaptation of Stephen King's novel as well as a direct sequel to Stanley Kubrick's 1980 classic The Shining, filmmaker Mike Flanagan pulls off the impossible with the mesmerizing Doctor Sleep. Confidently shuffling through multiple layers of complex mythology, the movie ends up being a delicately personal examination of the lasting impact of trauma, grief and tragedy, all of if brought to life with a suitably supernatural sleight-of-hand. Rebecca Ferguson is seductively chilling as a soul-sucking undead siren named Rose the Hat who consumes the souls of terrified children and in the process gives one of the best performances of 2019.
7. The Last Black Man in San Francisco (D: Joe Talbot)
Since first watching it back at the end of May I haven't been able to get Joe Talbot's incisive, creatively imaginative The Last Black Man in San Francisco out of my head. This haunting stunner is an idiosyncratic piece of lyrical storytelling that grows in poetical resonance as it goes along. An incisive look at gentrification, culture, race, poverty, sexuality and friendship, this visually expressive drama never follows a traditional storytelling path as it goes to ingenious lengths to ensure its voice ends up being heard.
8. Hustlers (D: Lorene Scafaria)
If I'm being entirely honest, Lorene Scafaria's Hustlers might just be the most surprising film of this past year. While the talented writer/director has crafted some pretty great motion pictures in the past, that she was able to bring this based-on-a-true-story tale of New York strippers just after the 2008 housing crisis deftly picking the pockets of their Wall Street clientele into an essential story of female empowerment, sisterhood and wealth inequality is somewhat mind-blowing. Star Constance Wu is terrific, but it is a never-better Jennifer Lopez who steals the show, her character's entrance into the story as spectacular a "wow!" moment as any I've frankly ever seen.
9. Toy Story 4 (D: Josh Cooley)
All of the Toy Story adventures have ended up being one of the best motion pictures of their respective years, this summer's Toy Story 4 included. Somehow these movies keep evolving and growing with the times, finding various new ways to explore the inner workings of the lives of their sentient troupe of not-so-inanimate inanimate characters that consistently amaze. If anything, this fourth chapter in the series brings pitch-perfect closure to cowboy Woody's (voiced by Tom Hanks) ongoing journey, the lessons he and his group of friends end up learning ones I'll be cherishing for a long time to come.
10. Knives Out (D: Rian Johnson)
Not gonna lie; Rian Johnson's Knives Out is the one motion picture from 2019 that I have watched more times than any single other film released this past year. Featuring an outstanding all-star ensemble cast, arguably Daniel Craig's best performance ever as eccentric detective Benoit Blanc and a revelatory one from rising star Ana de Armas, this is a take-no-prisoners Agatha Christie-style murder mystery that's also an incisive and biting political satire at the exact same time. It's like Murder on the Orient Express crossed with The Discreet Charm of the Bourgeoisie with a dash of Clue tossed in for good measure, all of which helps make this a joyously devilish delight I literally can't get enough of.
FIVE FAV DOCUMENTARIES
1. The Most Dangerous Year (D: Vlada Knowlton)
Strikingly personal doc documenting both the year-long fight to thwart an anti-transgender "bathroom bill" in Washington State coupled with director Vlada Knowlton's family journey as they positively support and affirm their transgender child.
2. Apollo 11 (D: Todd Douglas Miller)
Stunning chronicle of the 1969 Apollo 11 mission to the Moon using newly discovered archival footage from NASA cut together brilliantly by director/editor Todd Douglas Miller.
3. Amazing Grace (D: Alan Elliott, Sydney Pollack)
Originally supervised by director Sydney Pollack in 1972 but only recently completed by co-director Alan Elliott with the approval of legendary R&B singer Aretha Franklin's estate, this energizing look at the singer recording her classic live gospel album at a church in the Watts neighborhood of Los Angeles is a certifiably platinum smash.
4. The Biggest Little Farm (D: John Chester)
Stupendously shot and inventively conceived, The Biggest Little Farm follows director John Chester and his wife Molly as the attempt to make their dream of creating a successful sustainable farm on 200 acres outside of Los Angeles a reality.
5. For Sama (D: Waad Al-Kateab, Edward Watts)
Five years in the life of a young mother falling in love and having a child living in Aleppo, Syria as a terrifying war rages around her. Not for the faint of heart or spirit but stunning stuff all the same.
– Portions of this feature reprinted courtesy of the SGN in Seattle