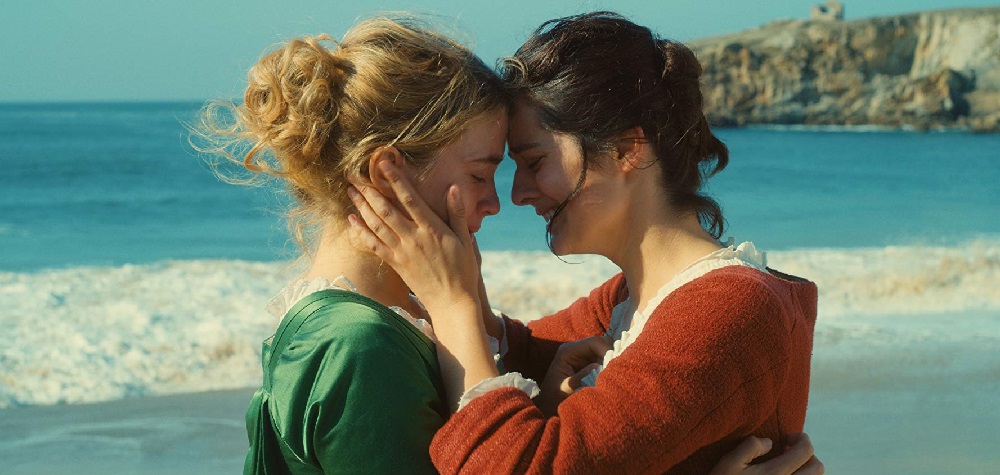 A SECOND TWENTY-FIVE (because I can)
11. 1917 (D: Sam Mendes)
Sam Mendes' fearlessly immersive WWI spectacle is a stunningly shot marvel (courtesy ace cinematographer Roger Deakins) that forces the viewer into a thrilling first-person race against time and a horrifying trek across No Man's Land.
12. Dolemite Is My Name (D: Craig Brewer)
A never-better Eddie Murphy as iconoclastic entertainer Rudy Ray Moore and the year's best ensemble cast in a monstrously entertaining look at one of the most financially successful underground independent productions (1975's Dolemite) of all-time.
13. Sunset (D: László Nemes)
László Nemes follows up his 2015 Oscar-winner Son of Saul with a masterful drama of a young woman returning to Budapest to reclaim her family's honor and finds herself suddenly in the center of a political and social maelstrom that will lay the groundwork for the events of WWI.
14. Us (D: Jordan Peele)
Unsettling, provocative and wholly original, Jordan Peele's latest socially conscious metaphorical shocker is also an incredible showcase for Lupita Nyong'o in a dual role. Heart-stopping stuff to say the least.
15. Portrait of a Lady on Fire (D: Céline Sciamma)
Céline Sciamma's powerfully multilayered drama of a young artist tasked with secretly painting a portrait of an unwilling bride-to-be only to find herself falling in love with her target is one of the more visually devastating motion pictures I've seen in quite some time. Actresses Noémie Merlant and Adèle Haenel are superb.
16. Ford v Ferrari (D: James Mangold)
James Mangold's high-octane, fast-paced 1966 battle royale between Ford Motor Company and Ferrari at the 24 Hour of Le Mans is an invigorating thrill ride featuring stellar performances from Matt Damon and Christian Bale as motorsports icons Carroll Shelby and Ken Miles. [Interview with stunt coordinator Robert Nagle]
17. The Wind (D: Emma Tammi)
A ghost story, a psychological drama, a tale of demonic possession and a haunting feminist history lesson of life on the American frontier during the 19th century, Emma Tammi horror-western The Wind is a fascinating mood piece that burrowed under my skin and then refused to let go.
18. The Irishman (D: Martin Scorsese)
Martin Scorsese's epic drama of gangsters, politics, professional killers and Jimmy Hoffa is a stunning, one-of-a-kind stroke of storytelling slow-burn bravado that only grows in tragic eloquence as it goes along. Robert De Niro, Al Pacino and a lured-out-of-retirement Joe Pesci are all nothing less than extraordinary.
19. Captain Marvel (D: Ryan Fleck, Anna Boden)
Marvel Studio's first adventure headlined by a female superhero was thankfully well worth the wait, star Brie Larson more than holding her own as the powerful intergalactic guardian Carol Danvers, a.k.a. Captain Marvel.
20. Parasite (D: Bong Joon-ho)
The year's most critically acclaimed motion picture is a sly, carnivorously beguiling social commentary that explodes into home-grown terror and tragedy at the most unexpected of moments. Bong Joon-ho is a master filmmaker working at the top of his game.
21. The Peanut Butter Falcon (D: Tyler Nilson, Michael Schwartz)
Newcomer Zack Gottsagen and popular movie stars Shia LaBeouf and Dakota Johnson are all outstanding in directors Tyler Nilson and Michael Schwartz eccentrically thrilling coming-of-age melodrama that plays out like a modern-day Mark Twain short story vibrantly brought to effervescent life.
22. Rust Creek (D: Jen McGowan)
Jen McGowan's stirring thriller of a young college woman who makes a catastrophic wrong turn on the way to a Washington, DC internship interview on the eve of Thanksgiving is a minimalist marvel that only grows in restlessly captivating power as it goes along.
23. Gloria Bell (D: Sebastián Lelio)
Sebastián Lelio's remake of his own 2013 Chilean smash refuses to play it safe follow step-by-step its predecessor's footsteps. Julianne Moore gives a rich, heartbreakingly sincere performance that borders on unforgettable.
24. Brittany Runs a Marathon (D: Paul Downs Colaizzo)
A career-best performance from star Jillian Bell combined with sharp direction from Paul Downs Colaizzo help allow Brittany Runs a Marathon to cross the entertainment finish line nothing less than victorious. [Interview with writer/director Paul Downs Colaizzo]
25. Ready or Not (D: Matt Bettinelli-Olpin, Tyler Gillett)
Samara Weaving is a force to be reckoned with, dominating the screen with emotionally ferocious intensity. With a wittily crafty script and featuring creatively nimble direction from Matt Bettinelli-Olpin and Tyler Gillett, this gory little treat is an absolute hoot destined to achieve cult-favorite status.
26. Furie (D: Le Van Kiet)
For my money the Vietnamese import Furie was the best pure action film of 2019, Veronica Ngo making for a spirited heroine whose talent for one-on-one violence is only magnified by her feral motherly determination to reunite with her recently kidnapped child.
27. Little Women (D: Greta Gerwig)
Greta Gerwig's innovative adaptation of Louisa May Alcott's classic, much-filmed source material is one of the year's most delightfully endearing surprises, her nonlinear approach to the material helping to make the novel's themes feel fresh and timeless for the 21st century.
28. Long Day's Journey Into Night (D: Bi Gan)
Even without the jaw-dropping, single take 3-D final hour, Bi Gan's Long Day's Journey Into Night would still be an essential piece of cinematic poetry deserving of applause. With that final hour it might be a gosh darn masterpiece. Only time will tell.
29. A Beautiful Day in the Neighborhood (D: Marielle Heller)
Empathetic and incisive in its highly personal familial observations, Marielle Heller's A Beautiful Day in the Neighborhood isn't so much about Fred Rogers as it is a celebration of all it is he quietly stood for. Tom Hanks is sensational.
30. Photograph (D: Ritesh Batra)
Ritesh Batra's stirring, heartfelt Photograph is a magnetic romantic snapshot of individual longing and human understanding that's a rapturously intimate pleasure that sadly ended up as one of the year's most underseen gems.
31. Missing Link (D: Chris Butler)
Chris Butler's Missing Link makes me smile. It makes me feel happy and euphoric as few other films were able to accomplish in 2019. It is a visually inventive sensation that also happens to sport an insightfully progressive script that's nothing short of perfect.
32. The Lighthouse (D: Robert Eggers)
Hark Triton, hark! That crafty ol' Robert Eggers, he beguile ye viewers with a sneaky crag of a psychological horror yarn that's a crackin' good'en I found impossible to resist.
33. In Fabric (D: Peter Strickland)
A gorgeous red dress that fits everyone and anyone who wears it also sets them on a path to certain death in writer/director Peter Strickland's highly original horror opus, and in the process casts a demonically enthralling spell upon the viewer that's insidiously unnerving.
34. Frozen II (D: Chris Buck, Jennifer Lee)
Gorgeously animated sequel that also builds and expands on the ideas explored in such rapturous detail in the 2013 original film, this adventure with sisters Anna and Elsa is once again a celebration of sisterhood and self-determination viewers of all ages are almost certain to enjoy. The songs are pretty great, too.
35. Crawl (D: Alexandre Aja)
I was arguably in the bag for a thriller where alligators attack Floridians during a hurricane before I stepped into the theatre, but just because that's the case that doesn't make Alexandre Aja's bloodily vicious creature-feature Crawl any less wonderful. This horror tale has bite. Literally.
FIFTEEN MORE JUST FOR FUN (in alphabetic order)
Abominable (D: Jill Culton), Ad Astra (D; James Gray), Arctic (D: Joe Penna), Charlie Says (D: Mary Harron), Diane (D: Kent Jones), Dora and the Lost City of Gold (D: James Bobin), Happy Death Day 2U (D: Christopher Landon), Honey Boy (D: Alma Har'el), How to Train Your Dragon: The Hidden World (D. Dean DeBlois), The Kid Who Would Be King (D: Joe Cornish), The Report (D: Scott Z. Burns), Scary Stories to Tell in the Dark (D: André Øvredal), Uncut Gems (D: Josh Safdie, Benny Safdie), Waves (D: Trey Edward Shults), Wild Rose (D: Tom Harper)
HONORABLE MENTIONS (in alphabetic order)
The Aeronauts (D: Tom Harper), Alita: Battle Angel (D: Robert Rodriguez), The Art of Self-Defense (D: Riley Stearns), Black Christmas (D: Sophia Takal), Blinded by the Light (D: Gurinder Chadha), Charlie's Angels (D: Elizabeth Banks), The Death of Dick Long (D: Daniel Scheinert), Depraved (D: Larry Fessenden), Donnybrook (D: Tim Sutton), Fighting with My Family (D: Stephen Merchant), Greener Grass (D: Jocelyn DeBoer, Dawn Luebbe), Harriet (D: Kasi Lemmons), Haunt (D: Scott Beck, Bryan Woods), John Wick: Chapter 3 – Parabellum (D: Chad Stahelski), Jojo Rabbit (D: Taika Waititi), Klaus (D: Sergio Pablos), Ladyworld (D: Amanda Kramer), Les Misérables (D: Ladj Ly), Long Shot (D: Jonathan Levine), Official Secrets (D: Gavin Hood), Queen & Slim (D: Melina Matsoukas), Rocketman (D: Dexter Fletcher), Satanic Panic (D: Chelsea Stardust), Shadow (D: Zhang Yimou), Shazam! (D: David F. Sandberg), Sword of Trust (D: Lynn Shelton), Teen Spirit (D: Max Minghella), Triple Threat (D: Jesse V. Johnson), The Two Popes (D: Fernando Meirelles), Vita & Virginia (D: Chanya Button)
– Portions of this feature reprinted courtesy of the SGN in Seattle