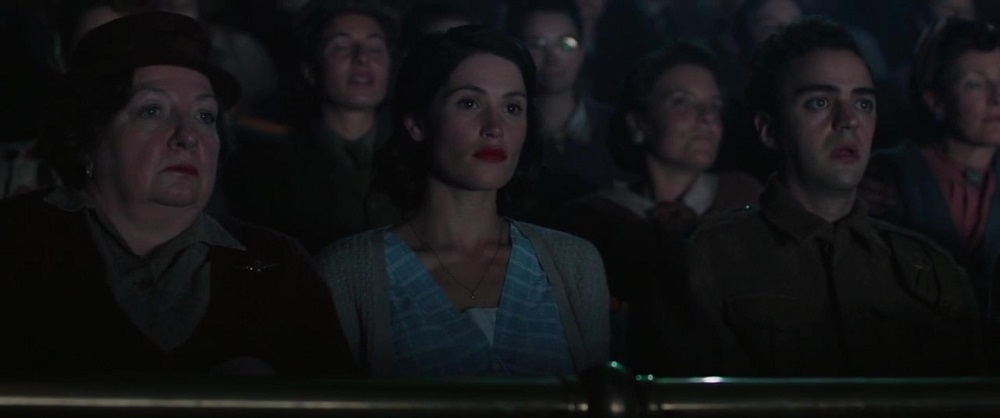 Decade in Review
Top 50 Films 2010 – 2019 (Part Three: 30-21)
Sensational writer Katie Stebbins, you can find her at @_katiestebbins_ on Twitter (and I recommend you do so), does this awesome "Top Ten By Year" project every 12 months or so. She compiles for herself a massive watchlist of practically everything one can imagine from a given year in cinema, dives into it, writes about many of the films she watches and then finishes things off with her own personal top ten list. She also asks for her readership's and Film Twitter's top ten from said year, compiling that into a finished consensus list at the same time.
I bring this up for a couple of reasons. The first is to celebrate Katie. Her writing is excellent. She analyzes films in ways that consistently surprise me. I love her insights, and even when I don't agree with her opinions she still has such a distinct voice I can't help but value everything she says. She also typically self-publishes an incredible booklet (or "zine") that's usually around 20 pages that is as adorable a collectible keepsake as it sounds (the latest one she has up for sale is for TOP TEN BY YEAR: 1958), and if I had the means I'd buy every single one of them.
The other reason I bring her up is that Katie's ongoing task is a fine representation of what I am doing now. This Top 50 Films 2010-2019 list is my list and mine alone. I can't speak for any other opinions. I spent the last year re-watching a lot of these titles. I spent all the time ruminating on them. The final 50 are the ones that ended up being the most personal to me. The end. That's it. Nothing more to add.
I find it necessary to explain this because there will come a point where some will want to whine about titles I've excluded while angrily shouting about others I've chosen to opine upon and include. They will want to argue that the absent films made other lists compiled by major outlets and publications. They will say some of my choices weren't on any other lists so obviously I was wrong to include them here.
But the only one "voting" on these motion pictures is me. As I said, this is my decade in review. I did not ask my Twitter followers to vote. I'm not compiling top tens from other critics groups, filmmakers or scholars. I leave that work to the likes of Sight & Sound and other vaunted publications and institutions with the means and ability to do such a thing.
Anyhow, check out Katie's work at cinenthusiast.wordpress.com. You'll find her Top Ten By Year lists for 1925, 1930, 1949, 1958, 1969, 1978, 1982 and 1992. A few of these I had the pleasure of submitting my own list for and you'll find them there alongside several others. No matter how you look at it there's a lot of essential content to be found, and at worst newcomers will discover a number of titles they'll want to add to their own watch lists.
As for this ongoing series? I think some of my choices might catch some by surprise, as there are a couple of titles that haven't shown up in the majority discussion of the best films of the 2010s. But, as I've already said, that's what makes this list mine, and in my opinion that's also what makes it special.
Without further ado, here are entries 30 thru 21:
30. Short Term 12 (2013) (D: Destin Daniel Cretton)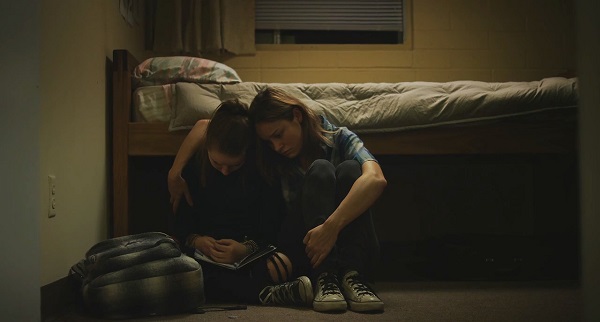 Even though it's been less than a decade since Destin Daniel Cretton's superb Short Term 12 debuted to almost universally ecstatic reviews from critics and audiences alike, it's an open question whether he or his producers could have assembled (let alone afforded) the same cast if they were to make this film again right now. Oscar-winner Brie Larson. Oscar-winner Rami Malek. LaKeith Stanfield. Kaitlyn Dever. John Gallagher Jr. It's a killer ensemble, and a serious case can be made all of them do career-best work right here. This is a top-of-the-resume sort of film for all involved, watching it a sublime treasure that only becomes even more deeply emotionally resonate with each viewing. [Theatrical Review]
29. Boyhood (2014) (D: Richard Linklater)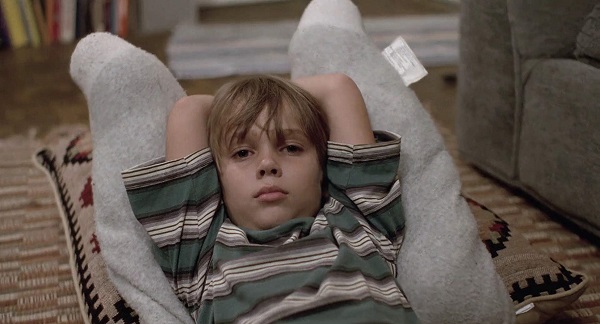 I'm still not sure how Richard Linklater snuck this one under the radar. By now most people know the story, the director and his two adult stars Patricia Arquette (who would win a Best Supporting Actress Academy Award for her performance) and Ethan Hawke getting together roughly once a year for 12 years to film the story of a pair of divorced parents raising their two children. Playing those two kids would be Ellar Coltrane and the filmmaker's daughter Lorelei Linklater, both of whom would age right before the audience's eyes during the motion picture's well-paced 165 minutes. It's a staggering narrative achievement, one that will be difficult to ever equal, Linklater pulling it off with a level of directorial precision that is nothing short of magnificent. [Theatrical Review]
28. Pariah (2011) (D: Dee Rees)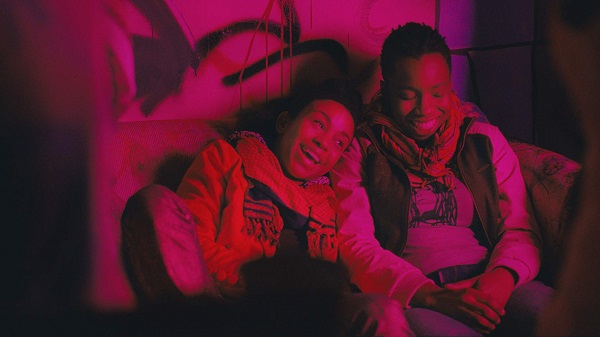 Pariah is one of those films I didn't initially see being on this list. While I liked Dee Rees' 2011 drama when I first watched it, I can't say it burrowed its way underneath my skin in a manner I figured was going to last long into the foreseeable future. Not only has the film stuck with me, it has done so in a manner where now I cannot imagine a world where it doesn't exist. Rees constructs an LGBTQ coming of age narrative that, even with its more recognizable genre trappings, manages to defy convention and become something idiosyncratically unique in the process. Star Adepero Oduye delivers a blistering central performance as the 17-year-old protagonist, her journey of sexual and gender discovery one I've happily discovered to be impossible to forget. [Theatrical Review]
27. Her Smell (2018) (D: Alex Ross Perry)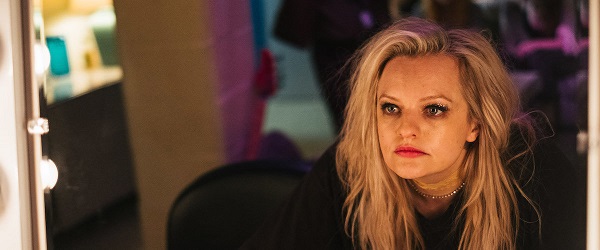 A rambunctious firecracker of a punk rock star melodrama, Elisabeth Moss lights the screen ablaze as the popular lead singer of a popular band who sees her life fall to pieces in a haze of alcohol, drugs and a litany of increasingly bad decisions. It a towering performance that doesn't just avoid cliché, it runs roughshod over the top of them as the actress fearlessly takes a familiar scenario and does something hypnotically marvelous with it. Alex Ross Perry's latest is a monumental barnburner that builds to a gigantic wallop of a climax. I couldn't have loved it more had I wanted to try. It's perfect.
26. Under the Skin (2013) (D: Jonathan Glazer)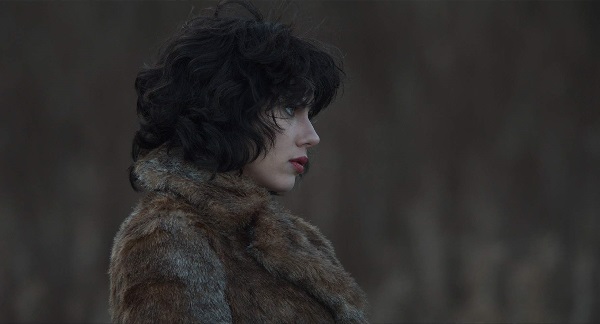 Jonathan Glazer's Under the Skin might be the single most unclassifiable motion picture I've placed on this list. It is almost a silent film, the director utilizing star Scarlett Johansson, cinematographer Daniel Landin, editor Paul Watts and most of all composer Mica Levi to do the narrative heavy lifting sans almost any dialogue. What follows is a frequently horrific, periodically comic, brutally raw and entirely mesmeric journey into identity, self-expression and gender. Most of all it is a quest of discovery, one that reveals even the most alien of personalities can embrace their innate humanity that quietly rests within the deepest recesses of the soul. [Theatrical Review]
25. Inside Out (2015) (D: Pete Docter, Ronnie Del Carmen (co-director))
Inside Out was one of those movies that I barely believed existed as I watched it. This whimsically inventive animated marvel affected me more intimately than any of Pixar's other triumphs. I saw myself in 11-year-old Riley. I loved the idea of emotions like "joy," "anger" and "sadness" living inside the brain. There is something blissfully genuine about the film, an idea that speaks to universal human truths that join all of us together whether we want to admit it or not. The frank honesty of what Docter and his talented team of artists, animators and filmmakers achieve is extraordinary, and I can't help but wonder if I'd had seen this picture when I was around Riley's age if certain secrets I'd kept hidden until adulthood would have remained that way or if I'd instead have been inspired to live my authentic truth then and there no matter what the consequences might have been. [Theatrical Review]
24. The Cabin in the Woods (2011) (D: Drew Goddard)

Good golly but does this raucous horror yarn kick all kinds of butt. Written by Drew Goddard and Joss Whedon (the former making his feature-length directorial debut), this genre-defying gem flips the script in so many various ways it's downright impossible to keep track of everything it is gleefully doing on the first watch. It is a movie that asks to be viewed multiple times, that urges the audience to pick apart its many facets as they try to find all of the Easter Eggs littered within and put all the pieces of its ingenious puzzle together before the apocalyptic climax. It's a slam-bang tour de force that felt like an instant classic when it initially hit theatres and has only cemented itself as one in the years since. Also, there's a Merman. You can never go wrong when there's a Merman. Just ask Bradley Whitford. [Theatrical Review]
23. Their Finest (2016) (D: Lone Scherfig)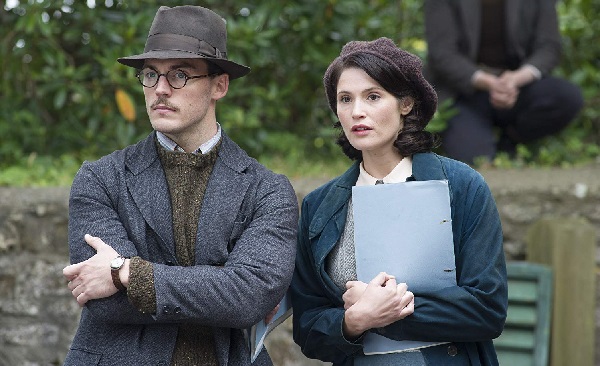 The second title on this list that concerns the heroic retreat at Dunkirk in June of 1940, Lone Scherfig's Their Finest is a miraculously introspective British melodrama about grief, heroism, love, art, creation, perseverance and forgiveness. It is a movie within a movie. It is a story with multiple layers, all of them given a decidedly feminine bent as the director examines life in London during the height of The Blitz and the fight against Hitler's Nazi war machine not going particularly well. Featuring a spellbinding, career-best performance from Gemma Arterton and sterling supporting turns from Sam Claflin, Bill Nighy, Helen McCrory, Jake Lacy and Rachael Stirling, this is old-school filmmaking at its, well, finest, Scherfig's drama a beguiling triumph from beginning to end. [Theatrical Review]
22. Carol (2015) (D: Todd Haynes)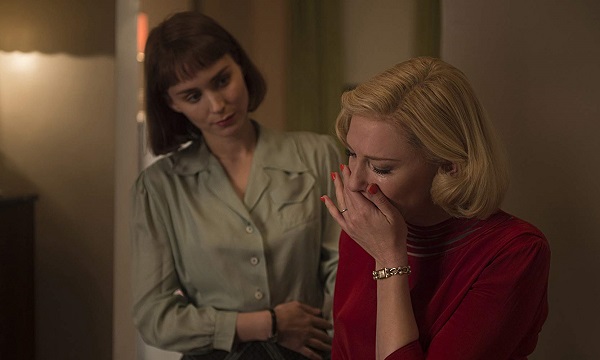 Todd Haynes' Carol, amelodious adaptation of Patricia Highsmith's novel The Price of Salt, is a terrific companion piece to his equally outstanding 2002 Douglas Sirk-style melodrama Far From Heaven. Rapturously designed, lushly shot by the great Edward Lachman and featuring one of the great scores of legendary composer Howard Shore's career, this film is a feast for the senses that only grows more sumptuous as it goes along. It is a moving tale of heartache, lust, longing, friendship and love, the whole picture dripping in seductive elegance that's hauntingly enchanting. Cate Blanchett and Rooney Mara are exquisite, as are supporting players Kyle Chandler and especially a scene-stealing Sarah Paulson. But make no mistake, this is Haynes' show, the veteran iconoclastic filmmaker in complete control throughout, the director delivering a sparkling, one-of-a-kind stunner destined to be debated, dissected, analyzed and most of all enjoyed for decades to come. [Theatrical Review]
21. Roma (2018) (D: Alfonso Cuarón)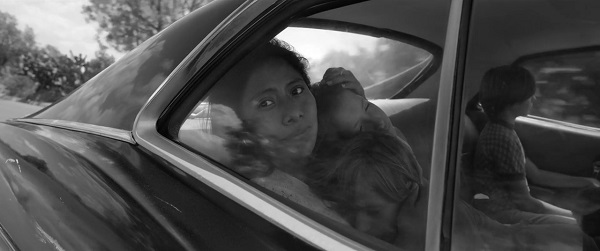 Alfonso Cuarón has made many great films. He has refused to be pigeonholed as he has bounced between multiple genres and storytelling styles throughout his career, rarely (if ever) repeating himself in the process. The enthralling Roma might just be his most personal story yet, this minimalistic wonder a masterclass of technical precision and a symphony of intimate emotional delights all at the same time. Showcasing a level of restraint that's beyond impressive, the director allows the beauty of this story gradually bloom as events progress, this snapshot of Mexico City in the 1960s a loving living memory that celebrates aspects of the human condition rarely examined in such gorgeously minute detail. Yalitza Aparicio and Marina de Tavira are luminous, each actress receiving an Academy Award nomination for their magnetically multidimensional performance. [Theatrical Review]