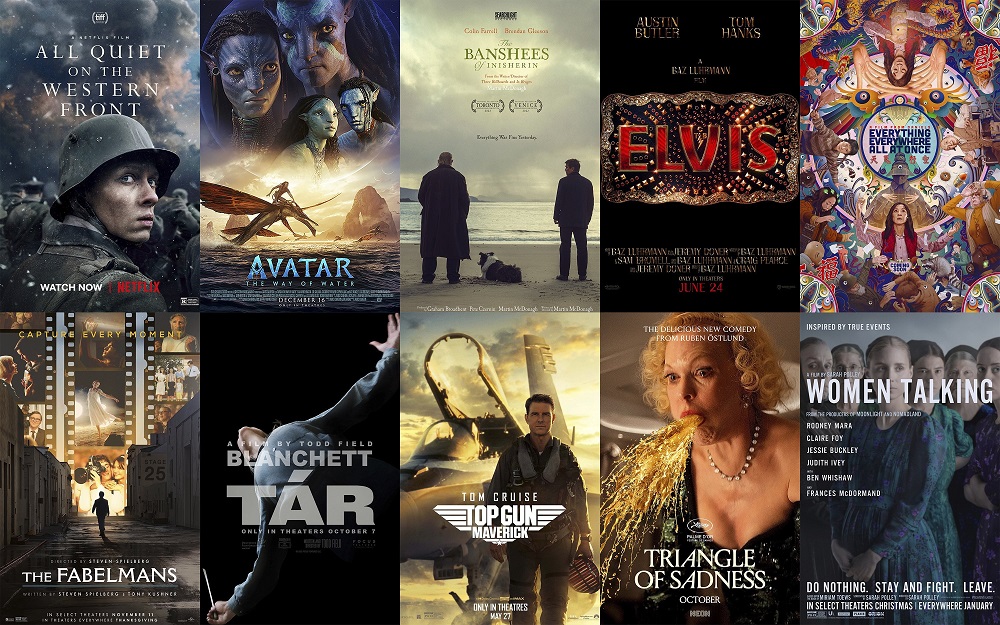 Multiverse sensation Everything Everywhere All at Once primed to dominate the Oscars
It's been a little while since we've had a genuine juggernaut dominate at the Academy Awards, where one film was victorious in the majority of the categories in which it was nominated. In fact, the last time this happened was almost two decades ago, in 2004, when Peter Jackson's The Lord of the Rings: The Return of the King went a perfect 11 for 11, joining Titanic and Ben-Hur as the only motion pictures to go home with that many Oscars.
Even though it has 11 nominations as well, Daniel Kwan and Daniel Scheinert's Everything Everywhere All at Once cannot ascend to the same heights as those three Best Picture–winning titans. But that's only because stars Jamie Lee Curtis and Stephanie Hsu are battling it out in the same category, Best Supporting Actress, which makes tying the all-time mark virtually impossible (there's always the possibility of a tie, but that's not happening).
Be that as it may, make no mistake: this multiverse melodrama about an immigrant family battling the forces of good and evil and struggling with indifference, parental neglect, lost dreams, romance, and all sorts of additional interpersonal calamities is primed to be the big story during this Sunday's 95th annual Academy Awards telecast. If the film were to win in all ten categories in which it is nominated, I wouldn't be even moderately surprised.
Not bad for a strange, wildly original fantasia of martial arts, slapstick comedy, tearful tragedy, hot dog fingers, dildo fisticuffs, and familial reconciliation. The great Michelle Yeoh stars in a role unlike any other she's had in her legendary 40-year career, and Indiana Jones and the Temple of Doom and The Goonies favorite Ke Huy Quan makes his return to the big screen for the first time in over three decades.
If there is going to be an upset, look to Germany's searing All Quiet on the Western Front and director Baz Luhrmann's raucously untamed Elvis as the likely upstarts, at least as far the big prize is concerned. The former shocked everyone when it took home Best Film along with nine other awards at last month's BAFTAs. As for the latter, star Austin Butler is all but locked to win Best Actor for his masterful performance as Elvis Presley (although The Whale star Brendan Fraser certainly still has a puncher's chance to pull off an upset), while history has shown us that Elvis itself is the type of larger-than-life, high-energy musical sensation Academy voters tend to be drawn to.
It also wouldn't shock anyone if Cate Blanchett were to win her third Oscar — her second for Best Actress — for Tár. But with Yeoh's recent Screen Actors Guild victory, that's looking more and more unlikely. Both are deserving, and stranger things have certainly happened, but it's hard to imagine that Academy voters won't take the opportunity to award a bona fide international icon for the performance of her career.
There will be plenty of additional drama throughout the night, some of which will have nothing to do with the awards themselves. It's easy to wonder what might transpire, after last year's unhinged debacle, where some categories were presented before the live show began, the comedy fell flat, and there was so much peculiar "filler" material that one might have suspected that the producers were attempting to sabotage their own show. And that's not even mentioning the "slap" seen and heard all around the world in one of the wildest moments in all of Oscar history.
Anyhow, here are my predictions as to who will emerge victorious in every category at this year's Academy Awards. Just for fun, I've also included my personal picks in the top categories as to what I want to win, along with a film or a performance I wish would have been nominated instead. Enjoy!
BEST PICTURE
Nominees: All Quiet on the Western Front, Avatar: The Way of Water, The Banshees of Inisherin, Elvis, Everything Everywhere All at Once, The Fabelmans, Tár, Top Gun: Maverick, Triangle of Sadness, Women Talking
Will win: Everything Everywhere All at Once
Should win: The Banshees of Inisherin
Not nominated, should have been: Glass Onion
BEST DIRECTOR
Nominees: Martin McDonagh (The Banshees of Inisherin), Daniel Kwan, Daniel Scheinert (Everything Everywhere All at Once). Steven Spielberg (The Fabelmans), Todd Field (Tár), Ruben Östlund (Triangle of Sadness)
Will win: Daniel Kwan, Daniel Scheinert
Should win: Daniel Kwan, Daniel Scheinert
Not nominated, should have been: Charlotte Wells (Aftersun)
BEST ACTOR
Nominees: Paul Mescal (Aftersun), Colin Farrell (The Banshees of Inisherin), Austin Butler (Elvis), Bill Nighy (Living), Brendan Fraser (The Whale)
Will win: Austin Butler
Should win: Colin Farrell
Not nominated, should have been: Park Hae-il (Decision to Leave)
BEST ACTRESS
Nominees: Ana de Armas (Blonde), Cate Blanchett (Tár), Michelle Yeoh (Everything Everywhere All at Once), Michelle Williams (The Fabelmans), Andrea Riseborough (To Leslie)
Will win: Michelle Yeoh
Should win: Michelle Yeoh
Not nominated, should have been: Regina Hall (Honk for Jesus. Save Your Soul.)
BEST SUPPORTING ACTOR
Nominees: Brendan Gleeson (The Banshees of Inisherin), Brian Tyree Henry (Causeway), Barry Keoghan (The Banshees of Inisherin), Judd Hirsch (The Fabelmans), Ke Huy Quan (Everything Everywhere All at Once)
Will win: Ke Huy Quan
Should win: Barry Keoghan
Not nominated, should have been: Harry Melling (The Pale Blue Eye)
BEST SUPPORTING ACTRESS
Nominees: Angela Bassett (Black Panther: Wakanda Forever), Hong Chau (The Whale), Kerry Condon (The Banshees of Inisherin), Jamie Lee Curtis (Everything Everywhere All at Once), Stephanie Hsu (Everything Everywhere All at Once)
Will win: Jamie Lee Curtis
Should win: Kerry Condon
Not nominated, should have been: Janelle Monáe (Glass Onion)
BEST ADAPTED SCREENPLAY
Nominees: All Quiet on the Western Front, Glass Onion, Living, Top Gun: Maverick, Women Talking
Will win: Women Talking
Should win: Glass Onion
Not nominated, should have been: Bones and All
BEST ORIGINAL SCREENPLAY
Nominees: The Banshees of Inisherin, Everything Everywhere All at Once, The Fabelmans, Tár, Triangle of Sadness
Will win: Everything Everywhere All at Once
Should win: The Banshees of Inisherin
Not nominated, should have been: Bodies Bodies Bodies
BEST ANIMATED FEATURE
Nominees: Guillermo del Toro's Pinocchio, Marcel the Shell with Shoes On, Puss in Boots: The Last Wish, The Sea Beast, Turning Red
Will win: Guillermo del Toro's Pinocchio
Should win: Turning Red
Not nominated, should have been: My Father's Dragon
BEST DOCUMENTARY FEATURE
Nominees: All That Breathes, All the Beauty and the Bloodshed, Fire of Love, A House Made of Splinters, Navalny
Will win: Navalny
Should win: Fire of Love
Not nominated, should have been: Cow
BEST INTERNATIONAL FEATURE
Nominees: All Quiet on the Western Front, Argentina, 1985, Close, EO, The Quiet Girl
Will win: All Quiet on the Western Front
Should win: All Quiet on the Western Front
Not nominated, should have been: Decision to Leave
BEST CINEMATOGRAPHY
Nominees: All Quiet on the Western Front, Bardo: False Chronicle of a Handful of Truths, Elvis, Empire of Light, Tár
Will win: Elvis
Should win: Elvis
Not nominated, should have been: Top Gun: Maverick
BEST EDITING
Nominees: The Banshees of Inisherin, Elvis, Everything Everywhere All at Once, Tár, Top Gun: Maverick
Will win: Everything Everywhere All at Once
Should win: Top Gun: Maverick
Not nominated, should have been: Nope
BEST PRODUCTION DESIGN
Nominees: All Quiet on the Western Front, Avatar: The Way of Water, Babylon, Elvis, The Fabelmans
Will win: Elvis
Should win: Babylon
Not nominated, should have been: Crimes of the Future
BEST COSTUME DESIGN
Nominees: Babylon, Black Panther: Wakanda Forever, Elvis, Everything Everywhere All at Once, Mrs. Harris Goes to Paris
Will win: Black Panther: Wakanda Forever
Should win: Everything Everywhere All at Once
Not nominated, should have been: The Woman King
BEST SOUND
Nominees: All Quiet on the Western Front, Avatar: The Way of Water, The Batman, Elvis, Top Gun: Maverick
Will win: Top Gun: Maverick
Should win: Top Gun: Maverick
Not nominated, should have been: Nope
BEST MAKEUP & HAIRSTYLING
Nominees: All Quiet on the Western Front, The Batman, Black Panther: Wakanda Forever, Elvis, The Whale
Will win: Elvis
Should win: All Quiet on the Western Front
Not nominated, should have been: Terrifier 2
BEST ORIGINAL SCORE
Nominees: All Quiet on the Western Front, Babylon, The Banshees of Inisherin, Everything Everywhere All at Once, The Fabelmans
Will win: Everything Everywhere All at Once
Should win: The Banshees of Inisherin
Not nominated, should have been: The Batman
BEST ORIGINAL SONG
Nominees: "Lift Me Up" (Black Panther: Wakanda Forever), "This Is a Life" (Everything Everywhere All at Once), "Naatu Naatu" (RRR), "Applause" (Tell It Like a Woman), "Hold My Hand" (Top Gun: Maverick)
Will win: "Naatu Naatu"
Should win: "Naatu Naatu"
Not nominated, should have been: "1 True Love" (Turning Red)
BEST VISUAL EFFECTS
Nominees: All Quiet on the Western Front, Avatar: The Way of Water, The Batman, Black Panther: Wakanda Forever, Top Gun: Maverick
Will win: Avatar: The Way of Water
Should win: Avatar: The Way of Water
Not nominated, should have been: Nope
BEST ANIMATED SHORT
Nominees: The Boy, the Mole, the Fox and the Horse; The Flying Sailor; Ice Merchants; My Year of Dicks; An Ostrich Told Me the World Is Fake and I Think I Believe It
Will win: The Boy, the Mole, the Fox and the Horse
Should win: An Ostrich Told Me the World Is Fake and I Think I Believe It
BEST DOCUMENTARY SHORT
Nominees: The Elephant Whisperers, Haulout, How Do You Measure a Year?, The Martha Mitchell Effect, Stranger at the Gate
Will win: The Elephant Whisperers
Should win: The Elephant Whisperers
BEST LIVE ACTION SHORT
Nominees: An Irish Goodbye, Ivalu, Night Ride, The Pupils, The Red Suitcase
Will win: An Irish Goodbye
Should win: An Irish Goodbye
– This feature reprinted courtesy of the SGN in Seattle