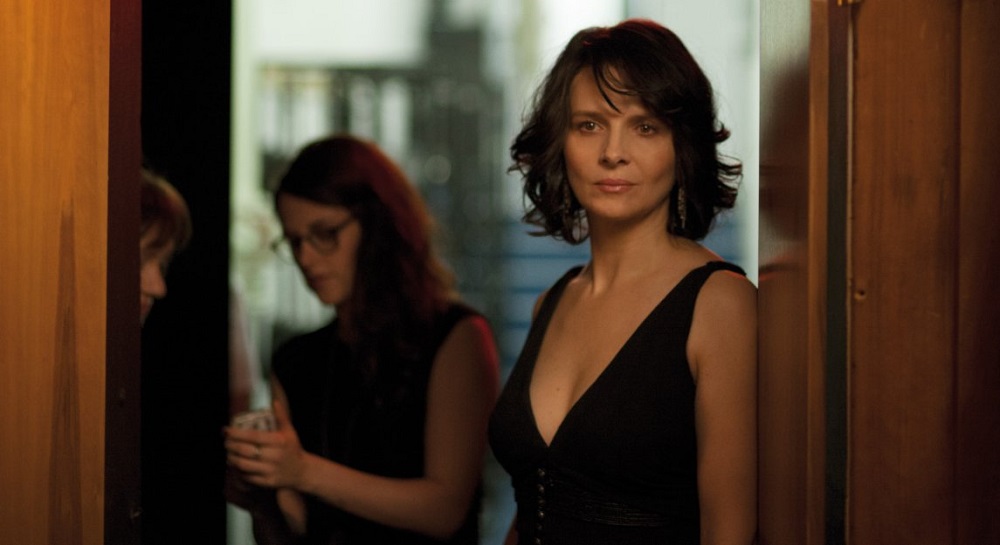 Top Ten Films of 2015
Writer/director Olivier Assayas' latest drama is perfect, the movie a stunning portrait of a middle-aged actress (a dazzling Juliette Binoche) who comes face-to-face with her own career mortality when she's asked to play the older role in the play that made her a star two decades prior. Funny, thought-provoking, intimate and authentic, the film is a nimble surprise that builds to an emotional firecracker of a climax. Co-starring Chloë Grace Moretz as the ingénue taking Binoche's place and an Oscar-worthy Kristin Stewart as the longtime assistant tasked with helping her maintain a semblance of sanity, the movie is an absolute joy, and as such is one of two motion pictures in all of 2015 I've already watched a half-dozen times happily of my own volition.
George Miller's return to the Aussie dystopian wasteland he first created alongside star Mel Gibson back in 1979 arguably shouldn't have gone this well. Plagued by years of restarts and production delays, with Tom Hardy brought in to replace Gibson after the latter's antics made him persona non grata as far as financiers were concerned, the first Max Rockatansky adventure in 30 years is an instant classic, a genre-mashing smorgasbord of vehicular mayhem, gender politics and imaginative vision unlike anything else to grace movie screens in eons. An instant classic, if only for the fact it gifted audiences with Charlize Theron's complex warrior Imperator Furiosa, this is the Hollywood action flick all others will be judged against for many years to come.
3. Sicario
Denis Villeneuve's Sicario is hardly the first thriller to tackle the United States' seemingly endless and unwinnable war on the drug cartels, Steven Soderbergh's 2000 Oscar-winner Traffic the most obvious example, but that doesn't make it any less magnificent. An unwaveringly tense descent down a disturbing rabbit hole, the movie fearlessly moves around in grey areas similarly themed features run in the opposite direction screaming from. Magnificently scored, shot, edited and acted, Villeneuve stages a number of hypnotic set pieces, not the least of which is an opening look inside the walls of an Arizona/Mexico border drug house where death comes easy and horror lasts forever.
4. It Follows
Few films get under the skin like writer/director David Robert Mitchell's sophomore effort, the supernatural horror tale It Follows a gloriously unsettling look at sex, sexuality, growing up and friendship that's as unnerving as it is impressive. Not so much scary as it is emotionally crippling, the movie is anchored by a performance by up-and-comer Maika Monroe that should be a part of the Best Actress Oscar conversation (but sadly is not), the star so sensational it's impossible not to expect gigantic things from her in the very near future. More than that, though, the movie is a devastating mood piece that gets better and better as it moves along, culminating with an eerie scene of insidious suburban malaise and camaraderie I found positively breathtaking.
5. Carol
An adaptation of Patricia Highsmith's groundbreaking 1952 novel The Price of Salt, director Todd Haynes' latest melodramatic opus is a quietly fiery look at romance, class status, infidelity and parenthood that digs itself under the skin in ways that are both universal and profound. Not so much a story about a Lesbian affair as it is a saga of romance in general, the film is a beautifully realized stunner overflowing in power and passion, richly mining multifaceted emotional interiors that transcend celluloid. While Cate Blanchett is stunning as the titular character, it is Rooney Mara as the object of her affections who stole my heart, her quietly complex performance one of the absolute best I'll see this, or in any other, year.
6. Inside Out
Pixar's latest masterpiece is one of the studio's most gloriously imaginative, looking at growing up and emotional maturation in ways it can likely be said no other film before it ever has. Stunningly animated, sure, it is the human element that makes the film so inspired, the journey emotions Joy, Sadness, Fear, Disgust and Anger go on one every person everywhere can wholeheartedly relate to from magnificent start to glorious finish.
7. Son of Saul
László Nemes' Son of Saul is not for the faint of heart. The story of an Auschwitz prisoner tasked with burning the bodies of those murdered by the Nazis who believes one of the children on his slab is actually his own son, the film is an unflinching look into the face of unimaginable evil that overwhelms the soul. Spectacularly shot, ingeniously scripted, the movie builds to the exact place it must, yet does so with a precise, mesmeric quality bordering on hypnotic, gifting viewers with a look at WWII and its most egregious atrocities the likes of which we have seldom seen before.
8. Cinderella
Disney and Kenneth Branagh join forces to prove that, just because a story is familiar, just because you don't do anything particularly groundbreaking with it, that doesn't mean you can't craft a masterpiece. There isn't a lot of reinvention as it pertains to Cinderella, the filmmaker and the studio more than content to let the classic fairy tale speak loudly for itself. At the same time, Branagh manages to construct his most indelible and impressive motion picture since his ambitious 1996 version of Shakespeare's Hamlet, the film so confident, so gorgeous, so pitch-perfect in tone, style, visuals, performances and emotion, the whole thing ends up being a bibbity-bobbity-beauty certain to stand the test of time.
9. 45 Years
Based on a short story by David Constantine, writer/director Andrew Haigh's 45 Years is a multilayered, memorably evocative two-person drama revolving around a longtime married couple dealing with unexpected, life-changing news on the eve of their 45th wedding anniversary. While not a ton happens, the full extent of the journey the two end up going on is massive nonetheless, what the movie has to say about love, loss and companionship a deeply personal tone poem ranking as one of the finest the silver screen has seen in ages. Charlotte Rampling and Tom Courtenay are superb.
10. Bone Tomahawk
If Howard Hawks, John Ford, Douglas Sirk and Stephen King ever joined forces on a Western, it's likely it would look an awful lot like writer/director S. Craig Zahler's stupendous Bone Tomahawk. What starts off as a quiet character study slowly morphs into a four-person sojourn into the unknown to recover kidnapped townspeople, ultimately shifting one more time to become a terrifying morality tale of colonialism versus cannibalism as natives fight against the encroaching force of progress to maintain their disturbingly terrifying way of life. A genre-bending sensation, this movie packs the type of wallop that hits you from all sides, building to a form of selfless heroism that held me spellbound in awe.
Best 2014 Films Released Domestically in 2015
Human Capital, Life Partners, Paddington, Tangerines, Timbuktu, White God
Top Five Documentaries
Best of Enemies, Cartel Land, The Hunting Ground, I Am Big Bird: The Caroll Spinney Story, The Look of Silence
– Portions of this feature reprinted courtesy of the SGN in Seattle