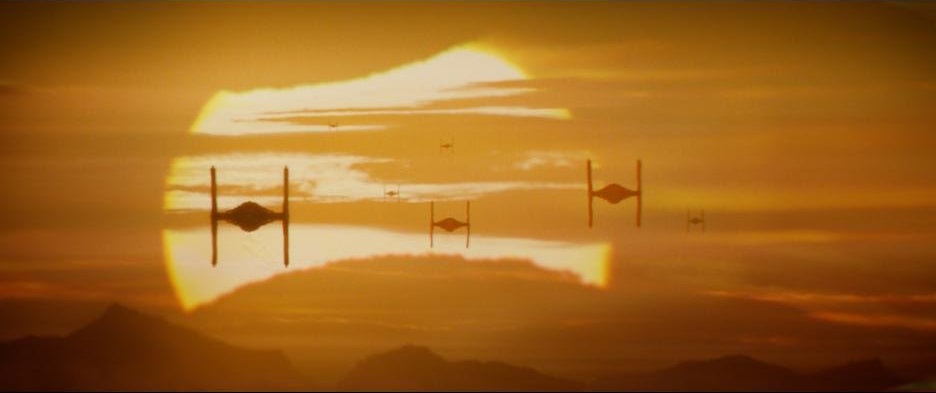 Force Strong in a Furiously Feminist (and Entertaining!) Year for Film
Every December I hear from both fellow critics and general moviegoers that such-and-such year has been a bad one for cinema, that there have been very few great movies released to theatres over the past 12 months. Rarely do I agree. Why? Mainly because, and I'm not just tooting my own horn, I typically watch a lot more films than the average person. As of this writing, I've viewed 240 motion pictures that were released to theatres in 2015, a pretty sizable number if I do say so myself.
So, when I say I think this hasn't just been a strong year for cinema, but a borderline fantastic one, I like to think I've got some perspective. When people disagree, part of me just doesn't think they took the time to seek out the numerous foreign and independent gems worthy of reveling in. Films like Christian Petzold's Phoenix, Sebastian Schipper's Victoria, James Kent's Testament of Youth, Marielle Heller's The Diary of a Teenage Girl, Joel Edgerton's The Gift, Ken Loach's Jimmy's Hall, Ted Geoghegan's We Are Still Here, Alex Ross Perry's Queen of Earth and Anne Fontaine's Gemma Bovery sadly played to a lot of empty houses, all deserving of far more in the way of ticket sales than they received. Even high profile efforts like Danny Boyle's Steve Jobs and Guy Ritchie's The Man from U.N.C.L.E. had trouble generating box office numbers like they warranted, both hopefully finding passionate audiences excited to crow about their virtues once they hit Blu-ray and DVD.
For my part, these were all films I considered for my own personal 2015 top ten list, and as substitutes go I'd happily swap every single aforementioned title for almost – not quite, of course – any of the ones that actually made the final cut. By my count, there were roughly 35 motion pictures I'd consider top tier or better, with another 20 or so I'd rate just behind them. All of which leads me to say, yes, I do believe 2015 was a great year for cinema, and I can't help but think history will bare me out on that proclamation as the years mercilessly go by.
As for themes that encapsulate the past 12 months, I think it's safe to say this year was beholden to the past more than just about any other in recent memory. Jurassic World broke all sorts of box office records over the summer, Mad Max: Fury Road reinvigorated a franchise after three decades of dormancy and Creed spun the legend of Rocky Balboa into a new, refreshingly timely direction that had a whole new generation rising to their feet in happy exultation. Then there is Star Wars: The Force Awakens, J.J. Abrams' take on George Lucas' interstellar world set a long, long time ago in a galaxy far, far away. Safe to say, audiences have embraced the return of Han Solo, Leia Organa and Luke Skywalker with open arms, thrilling to the adventures of newcomers Rey, Finn and Poe Dameron at the exact same time.
It was also a year where a string of high profile LGBT-themed films burst onto the scene, most of them coming directly out of Hollywood and featuring established or rising stars in many of the central roles. Todd Haynes' Carol with Cate Blanchett and Rooney Mara is one of these, as is Tom Hooper's Transgender drama The Danish Girl with Eddie Redmayne and Alicia Vikander. There was also Paul Weitz's intergenerational abortion comedy-drama Grandma featuring a brilliant Lily Tomlin, while other titles worthy of being talked about include Stephen Belber's Match, Rick Famuyiwa's Dope, Eli Hershko's Carl(a), Jonathan Demme's Ricki and the Flash and Lawrence Michael Levine's Wild Canaries. Best of all just might have been Sean Baker's shot-on-an-iPhone Christmas Eve Transgender prostitute comedy Tangerine, the movie a thought-provoking, yet still riotous, look at making lemonade out of lemons, featuring breakout performances from newcomers Kitana Kiki Rodriguez and Mya Taylor.
Not that it was all good news. On the retro front, remakes/reboots/reimaginings of Vacation, Poltergeist, Fantastic Four and Point Break all crashed and burned, while the less said the better in regards to new chapters in ongoing series like Terminator Genisys, The Transporter Refueled and Hitman: Agent 47. As for motion pictures with LGBT-friendly themes, Peter Sollett's Freeheld with Julianne Moore and Ellen Page might have been well-intentioned, but that didn't make it any more enjoyable, while the Will Ferrell/Kevin Hart comedy Get Hard proved to be one of the more rancid, racist and homophobic attempts to satirically tackle race, gender, sexuality and economic disparity that I've ever seen. As for Roland Emmerich's fantastically wrong-headed Stonewall, I still can't figure out why either he or his screenwriter Jon Robin Baitz thought this was a good idea, their blatant whitewashing of a major historical event so offensive there just aren't words to fully describe my continued, flabbergasted disgust.
Thankfully, there's so much about 2015 that makes me smile I can get over my revulsion in regards to the numerous misfires, disappointments and frustrations fairly easily. Not only was it a banner year for female characters in typically male-dominated genres (Mad Max: Fury Road, Star Wars: The Force Awakens, Mission: Impossible – Rogue Nation, The Hunger Games: Mockingjay – Part II, Trainwreck, It Follows, Creed, Sisters, Crimson Peak and Spy were all aces on that front), it was also a superb one for animated titles, Inside Out, Anomalisa, Shaun the Sheep Movie, When Marnie Was There and The Peanuts Movie each worthy of celebration. There were a number of winning Comedies, Westerns, Thrillers and Horror titles, while tiny gems like the tragically little seen Wildlike, Meadowland, Bone Tomahawk and A Girl Like Her litter the past 12 months' release schedule and will hopefully get their day in the sun once they become available for home consumption.
As for my part, the following pages contain my personal ten picks as 2015's best and worst motion pictures along with a handful of additional titles I feel are both worthy of a look as well as a must to avoid. There are also a number of other odds and ends, some of which I hope you find worthy of taking at least a passing glance at. Now, with 2016 in its infancy, I'm heading back to the theatre to watch Star Wars: The Force Awakens one more time, the pull of the Force just too strong for me to ignore.
– Portions of this feature reprinted courtesy of the SGN in Seattle